The MotoNav TN765 sports an eye-catching 5.1 inch ultra-widescreen (2.39:1 aspect ratio), which provides a big screen from side to side. Bluetooth connectivity for hands-free calling has a twist: besides voice calling, you can also sync contacts with compatible phones. Better yet, if a phone supports Bluetooth messaging, the TN765t will even read SMS messages aloud and present a collection of quick messages for sending hands-free responses.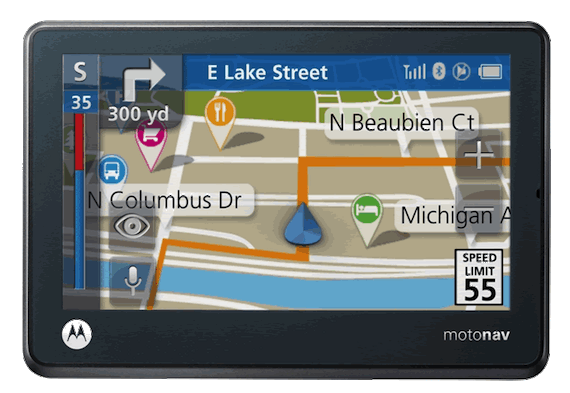 The Bluetooth connection also enables data connectivity on the device through a service called MotoExtras. Basically the service circumvents the requirement of a phone to have a data connection by making a simple voice call to Motorola's servers to access info on gas prices, weather, and flight status. Similarly, if you're looking for a location that isn't preloaded in the TN765t's point of interest database, searching via the Google button will also trigger a voice call to bring up the search engines top 10 results. The service is free for the first 3 months of use, which then switches to a fee.
The MotoNav TN765 can be used for the car or for portable use.  It ships with a car windshield mount/cradle and an FM-traffic data receiver.  The cradle allows you to draw juice from the TN765t's battery without plugging into a cigarette lighter. So there's no need to bother with a cord.
The MotoNav TN765 is available through Amazon for around $270.
Published on: 06 Apr 2010