This Apple Rumor one comes from a patent filed September 2008 that has now been made available to the public. In it, Apple discusses new ways to interact with your concert tickets,  "digital content" like coupons or music videos would become available after having a ticket communicate wirelessly with an Apple electronic device.
The technology used is called NFC (near-field communications), and its been written about on this site before in relation to wireless credit card payments. The iPhone and iPad don't currently have built-in NFC, but with Apple, they're looking to make this technology a primary theme behind future devices.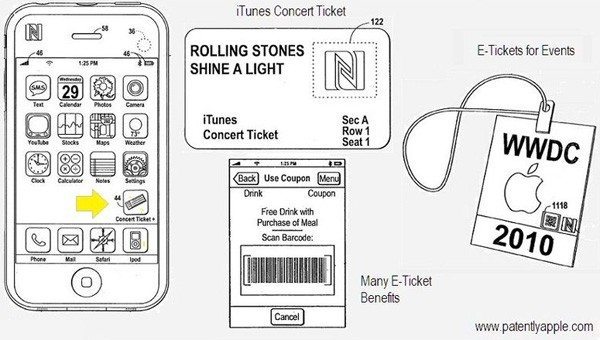 There's no missing the point that Apple wants to enter the electronic concert and event ticket business via a new application and system simply called "Concert Ticket +." The system that is laid out in this patent document, points to a new iTunes based web service for tickets that will naturally enhance the iTunes music empire. Apple definitely envisions a way to revolutionize the entire current concert ticket process so as to eliminate paper while enhancing the concert or event experience.
The patent reviews the basics of this new system as well as review the benefits of such a system which could include the concert goer receiving such things as a live recording of the concert they just attended or access to exclusive artist interviews or refreshments.
Surprisingly, the patent goes far beyond concerts as well – so as to cover sporting events, amusement park admissions and rides (think Disney), a wedding invitation system and a lot more. In fact, one of the events that the report covers includes Apple's World Wide Developer Conference 2010.
Broad Patent Overview
Event tickets may provide entry to events as well as other benefits. A person using an event ticket may also have one or more electronic devices. However, event tickets may be lost or misplaced, may not easily be transferred between distant individuals, and may provide a limited range of benefits. Moreover, those benefits associated with event tickets may not provide additional functionality to a user of one or more electronic devices.
Many people use a personal electronic device each day, as portable phones and digital media players are becoming commonplace. When attending various ticketed events, people may bring a personal electronic device. Using the techniques, systems, and devices described in this patent, we see that a user in the future will be able to obtain, store, or use a ticket in a device like an iPhone to gain entry to an event, as well as to gain a number of additional benefits.
Published on April 21, 2010