The AllClear Cordless Mosquito Mister Pro is the only mosquito misting system to deliver immediate protection from mosquitoes and other biting insects for an area up to 4000 sq. ft., for up to 6 hours. It provides immediate, long-lasting, outdoor insect protection when and where you need it most.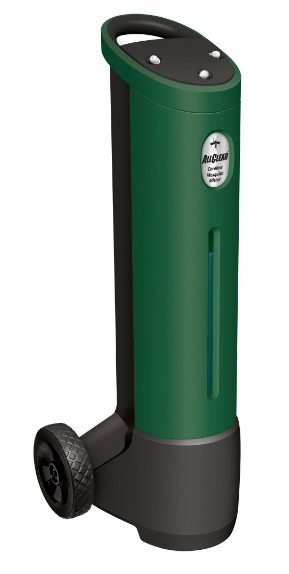 The Mister Pro is easy to operate. Simply position it within your backyard. The easy grip handle and large 8-inch wheels make it easy to move the unit, ensuring that the prevailing winds will disperse the mist across your intended coverage area. Depress the "Begin Spray" button on the unit itself, or using the included Remote Starter, and the unit will begin a 12-second countdown with an audible beep. Then it will start a 3-minute atomized mist cycle that will kill any mosquitoes, gnats and flies present, and repel others from your yard for up to 6-hours, allowing you to enjoy your yard whenever you like.
The AllClear Cordless Mosquito Mister Pro comes fully assembled with a charged battery. Simply add water and concentrate, and it is ready to use in your yard. The company offers three types of concentrates that can be added to the Mister Pro:
AllClear Naturals – a 100% natural plant-based concentrate with patented Geraniol, an extract from the lemongrass plant. Lasts for 2 hours.
ALLCLEAR Mosquito Botanical Insecticide Pyrethrum – Contains Pyrethrins, derived from dried Chrysanthemum flowers. Lasts for 4 hours
ALLCLEAR Mosquito Synergized Plus Concentrate – Contains Permethrin, insecticide based on natural Pyrethrins. Lasts up to 6 hours.
The AllClear Cordless Mosquito Mister Pro retails for $500.
(www.allclearmister.com)
Published on : April 23 2010