A company called Henge Docks just introduced a stunning MacBook docking station, the Henge Docks. Simply place your notebook into this holster-like stand, and it instantly connects to monitors, mice, USB and keyboards without a problem.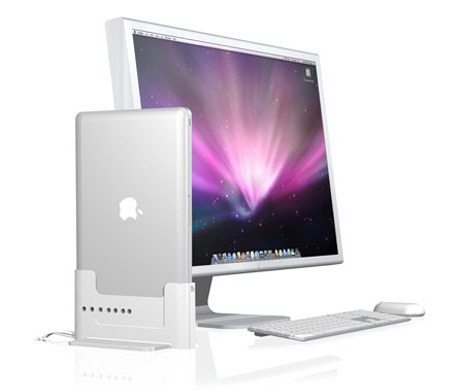 Henge Docks patent-pending design doesn't require any hardware, software or settings changes to your computer. In fact, every current MacBook is compatible with the system, right out of the box.
Each Henge Dock model is designed for a specific type of MacBook computer. Included with each dock are a full compliment of custom USB, Ethernet, Audio cables and in some models Firewire cables, designed to work with the Henge Dock system.
Henge Docks reuse a customer's existing Apple supplied MagSafe power source and Mini-DisplayPort to DVI adapter. If you choose to purchase a spare MagSafe Power Adapter or Apple Mini DisplayPort to DVI Adapter, the company recommends you buy only original Apple accessories to guarantee compatibility.
[adsense]
Setting up a Henge Docks unit is straight forward, allowing you to select only the cables you need, making docking and undocking the computer as easy as possible. The 13-inch MacBook Pro model runs $59.95, or you can pre-order a variety of docks covering most recent Apple MacBooks at similar prices.
(www.hengedocks.com/)
Published on: April 24 2010