To mark its 135th year, the French brand and racquet sports specialist is debuting a new design for the Pure Drive model. With a unique, surprising "red clay" color, the anniversary Pure Drive tennis racquet and matching bag will be available in May.

The Pure Drive entered the limelight in 1998 when Carlos Moya won the French Open with his "blue" weapon. In 2010, Babolat is paying homage to the Spanish champion's victory with that very first Babolat racquet. The anniversary edition Pure Drive, totally outfitted in red clay, will no doubt appeal to the most enthusiastic tennis fans and collectors alike.
To complete the commemorative equipment offering, Babolat is introducing a special tennis bag to match the 135th anniversary racquet.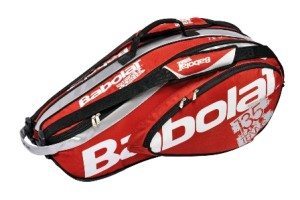 Product designers coordinated this bag with the design of the racquet including its form as well as its specific red clay color. Featuring several compartments and other functionality, the anniversary tennis bag combines optimal protection of material, technicality and design.
Each member of Team Babolat will carry the special 135th anniversary bag during the 2010 French Open from May 18 to June 6.
Published on May 6, 2010