Sony has released two new models in its Bright Era 3LCD business projector series – the VPL-FX500L and VPL-FX30. Both projectors have native XGA resolution of 1024 x 768, excellent lens shift capabilities, feature long-life lamps and filters and have low power consumption even with their high-brightness performance. The FX500L (7,000 ANSI lumens) is suited to large screen applications like those found in lecture halls and auditoriums, while the FX30 (4,200 ANSI lumens) has been created for midsized classrooms, boardrooms and meeting rooms.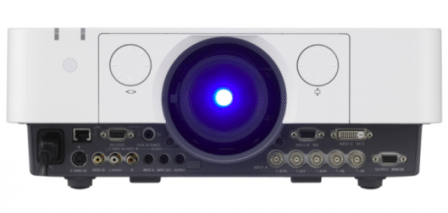 Sony's Product Manager for Installation Projectors and Public Display and Digital Signage, Les Boros, says it's the biggest improvement to Sony's Bright Era LCD technology for some time. He says the inorganic LCDs in the new models are more reliable and deliver better contrast than previous generations of LCD technology.
"Generally speaking, this inorganic technology means the optical assembly is not susceptible to breaking down under harsh light. Under normal circumstances, this equipment will last longer than its predecessors."
The F30 series' standard lens has a 1.6 x zoom which gives the projector a greater range of shorter and longer focal lengths, which is ideal for a broad range of installations.
"In the past if you needed a shorter focal length consumers would have to purchase an extra lens, but this model has flexibility built in. It also gives you a very good horizontal and vertical lens shift, which avoids having to use keystone correction."
The VPL-FX30's 1.6x zoom standard lens allows customers to easily upgrade from a majority of existing projectors to the VPL-FX30 without having to change ceiling mount positions. For applications where more than a standard lens is needed, the VPL-FX30 is compatible with the VPLL-Z1032 and VPLL-Z1024 accessory lenses for Sony's current VPL-F40 series.
Sony says the new model has more efficient lamp technology that provides up to 5,000 hours in standard mode, with the high light output effectively doubling brightness. The machine's filter is brand new, comprising two different types of material to trap more particles. The hybrid filter has no moving components and should last up 10,000 hours, says Sony.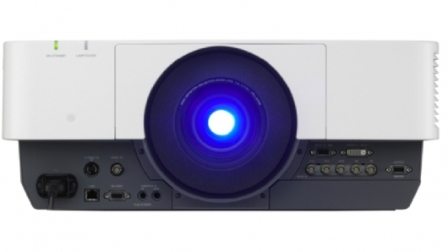 "The F30 is a particularly energy efficient model with a lower wattage lamp, and an economy mode accessible via the remote. This allows you to access eco functions directly, to step down the lighting level if the venue is already dark, and switch projector into low standby (less than .15W), which is around 40 percent better than the previous model. And the power-saving mode, when it's enabled, will switch the projector into standby mode after 10 minutes if no signal is detected.
The F500 series (auditorium style projector) is very bright and has twin lamp system. Only one lamp operates at a time but if one blows, the projector switches automatically to the other lamp for uninterrupted use. This series, too, has the hybrid filter, and is billed as a maintenance-free product. As most of these projectors will be ceiling-mounted, an 8,000 hour lamp life and 10,000 filter life.
The F30 series does not come with a lens as it has been designed as an upgrade model. Therefore, it is compatible with 11 other Sony lenses, dating back to year 2000 models. Boros says a huge advantage of this machine is its ability to perform a wide range of lens shift: + or = 96 percent, which is ideal for projectors mounted high up in sloping ceilings.
"This means the projector can be mounted close to the ceiling so as to not obstruct the view of people sitting in the last few rows of the auditorium," he says.
Boros adds that the two new models were initiated after market feedback from customers with larger projectors, staging and rental companies who wanted a good upgrade path from Sony.
"They also wanted us to reduce the energy required to operate the equipment, which we have been able to do while increasing the brightness. It goes beyond the just the image on the screen," he says.
Sony will be releasing the VPL-FX30 series worldwide from mid-June and the VPL-FX500L in July. Pricing will be made available from Sony outlets in each region.
Published on May 25, 2010