Pandigital is announcing an affordable color screen e-reader, the Novel.  Integrated with the Barnes & Noble eBookstore, Pandigital Novel is an Android-powered e-reader that has a full color touch-screen 7-inch display, Wi-Fi connectivity, and multimedia capabilities. It will retail for $199.99 when it ships in June.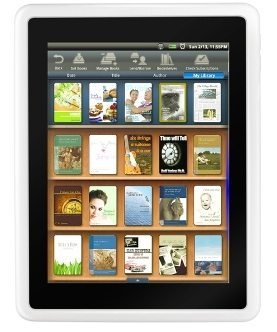 The Novel has an 800 x 600 resolution display, and is powered by an Arm 11 processor.  It measures 7.5 x 5.5 x 0.5 inches (HWD) and weighs 16 ounces. There's 1GB of built-in memory, as well as an expansion slot for SD/MMC memory cards (cards up to 32GB are supported). Pandigital rates the Novel's battery life at six hours in reading mode.
While it offers multimedia features (audio, video, images) as well as a built-in Web browser, email, calender, and alarm, Pandigital is billing it first and foremost as an e-reader. It says that Novel owners will have "easy access to Barnes & Noble's expansive eBookstore catalog of more than one million eBooks, newspapers and magazines, a wide variety of free eBooks and more than half a million free classics." They'll also be able to use Barnes & Noble LendMe feature that allows users to share certain e-books with friends and family for 14 days.
Here are some specs:
Operating system: Android (ARM 11 processor)
7-inch touch-screen TFT color display (800×600 resolution)
Weight: 16 ounces
Integrated Barnes & Noble eBookstore
WiFi enabled
1 GB internal memory with SD/MMC slot (up to 32GB cards supported)
Automatically adjusts between portrait and landscape mode when the device is tilted
eBook formats supported included PDF, EPUB, and HTML
Adjustable font sizes, built-in dictionary, highlights and notes
Built-in Web browser, email, alarm clock, and clalendar
Plays back music (MP3), displays images and certain video file formats
Built-in mini-USB port for transferring files from computer (Mac and PC compatible)
Mary Ellen Keating, a Barnes & Noble spokesperson, says- "Barnes & Noble's strategy is to offer our content on multiple platforms, so we're happy to power this new device and others. Nook is a dedicated eReading device with key design, reading and in-store features that are innovative, immersive and exciting for our customers. We don't believe our continued work with third-party partners will have any effect on our continued strong Nook sales."
Published on May 25, 2010