Bryston (www.bryston.com) announces the introduction of the BDP-1 digital music player, a companion to the company's award-winning BDA-1 DAC (digital-to-analog converter). The Bryston BDP-1's sole function is to give music experts the ability to enjoy their library of high-resolution digital music files (resolutions of up to 24-bit/192kHz are supported) residing on a USB storage device, which in turn is directly connected via standard USB cable or thumb drive to the BDP-1 digital music player.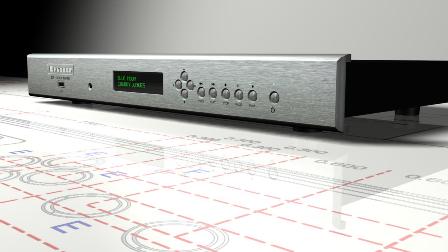 "The BDP-1's feature set is unique and we have found that it is most easily defined by clarifying what it does not do," stated Bryston's James Tanner. "The Bryston BDP-1 does not contain an internal DAC, a hard-drive, a streamer, a CD player/ripper, noisy fans or switching power supplies. The BDP-1 connects to an external DAC for playback through AES-EBU or BNC digital outputs. Quite simply, the BDP-1 is an ultra high-performance digital music player when connected to an external drive and DAC," said Tanner.
The face of the ultra-stable Linux-based BDP-1 is adorned with control buttons and a two-line display, making it a fully-functioning digital music player "right out of the box." Optionally, the BDP-1 can be connected to a home network using a router and Ethernet connection solely to enhance operability via network-enabled devices such as a computer, Apple® iPhone™ or iPad™, which can then provide access to playlists, album artwork, etc.Bryston's design philosophy for the BDP-1 eliminates all of the challenges associated with streaming large high-resolution digital files over the home network.
"The BDP-1 is a technically sophisticated digital music player incorporating the finest solid-state electronics," Tanner explained. "The BDP-1 has been designed to operate either all by itself or link up to your home network to be controlled by a variety of graphic interface devices," he added. "The BDP-1's graphic interface operates under 'open source' software protocols, ensuring long-term future proofing and compatibility with the widest possible range of user interface (UI) devices. We are also looking into developing our own web-based Music Player Daemon (MPD) client, which manipulates the database of digital files," Tanner concluded.
Here are some spec:
·        Out-of-the-box playability when connected to an external USB drive—no network required
·        Supports 16 and 24 bit files with sample rates of: 44.1 KHz, 48 KHz, 88.2 KHz, 96 KHz, 176.4 KHz & 192 KHz.
·        Linux operating system optimized to provide the highest quality audio performance
·        Industrial quality motherboard uses only a small fraction of its computing power to optimize sonic performance
·        Utilizes Bryston-modified top quality soundcard
·        AES-EBU Balanced and BNC (spdif) output section for the highest possible performance
·        Electronic isolation of audio components from computer components
·        Galvanic isolation employed to prevent charge-carrying particles from migrating section to section
The MSRP of the Bryston BDP-1 is expected to be $2100 USD with a delivery date later in 2010. Warranty on the BDP-1 is five years parts and labor.
Published on Jun 16, 2010