Google has announced a new tool for Android application creation named "App Inventor." The new, web-based tool uses an MIT-created Open Block programming interface to provide easy visual queues to buttons, actions, and more. The new tool is designed to open Android programming to more people and be "simple to use, but also very powerful."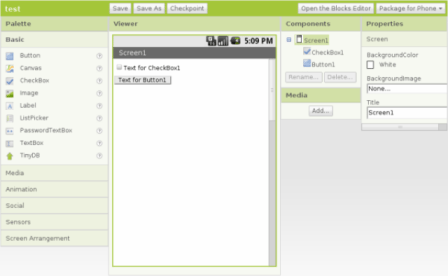 You can build just about any app you can imagine with App Inventor. To use App Inventor, you do not need to be a developer. App Inventor requires NO programming knowledge. This is because instead of writing code, you visually design the way the app looks and use blocks to specify the app's behavior.
The App Inventor team has created blocks for just about everything you can do with an Android phone, as well as blocks for doing "programming-like" stuff– blocks to store information, blocks for repeating actions, and blocks to perform actions under certain conditions. There are even blocks to talk to services like Twitter.
App Inventor is simple to use, but also very powerful. Apps you build can even store data created by users in a database. Because the Google App Inventor provides access to a GPS-location sensor, you can build apps that know where you are as well. You can also write apps that use the phone features of an Android phone.

App Inventor provides a way for you to communicate with the web. If you know how to write web apps, you can use App Inventor to write Android apps that talk to your favorite web sites, such as Amazon and Twitter.  In creating App Inventor for Android, Google used prior research in educational computing, and work done in Google on online development environments.
Published on July 14, 2010