The VuQube VQ3000 is being billed as the first fully automatic, light-weight, self-contained, portable satellite system with in-motion capability. When driving, the in-motion satellite tracking features provides continuous signal, and with a self-contained design and weather resistant enclosure, the unit is protected from all the elements. If you happen to be parked under a tree, you can simply remove the unit from the quick-release bracket and place it under the open sky. The self-install kit also allows you to secure the unit to an RV ladder without increasing the overall height.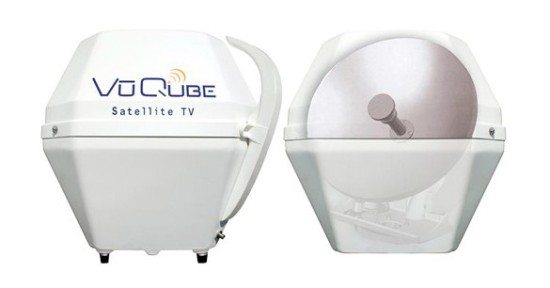 The satellite is compatible with Dish Network, DirecTV and BellTV and as long as you have power, you can take it anywhere. It also includes DVB for positive satellite identification, Dual LNB for two satellite receivers and auto satellite switching, which allows you change channels with the receiver's remote control.
Here are the VQ3000 Specifications:
Height: 17.5"
Width 16"
Weight 15lbs or 6.8kg
Wiring: bundle coax/data- 55'
The VuQube VQ3000 is priced at $1699, and is available here.