A recent study conducted by AVG Technologies identifies the riskiest and safest countries to surf the web. It's based on data from 127 million computers that have AVG software installed across 144 countries.  The study found users in the Caucasus region (Turkey, Russia, Armenia and Azerbaijan – the top four!) are all likely to face online threats with the US ranked as the ninth riskiest web surfing country. At the other end of the spectrum, some of the world's safest surfers can be found in Japan and Taiwan, while seven of the 10 safest countries are in Africa.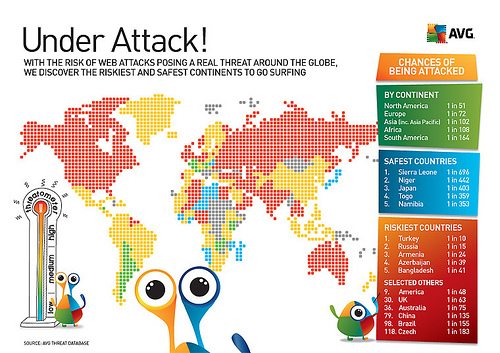 The results also show Sierra Leone as the 'safest' country, however, given its low broadband penetration and Internet usage, one could argue Japan as the safest place to search the net because of its high internet use and broadband reach.
What the study really highlights user behavior online. It's what makes North America as a continent the riskiest place to surf the web, because we've adopted risky online habits, the same habits shared by the Caucasus region and South-east Asia. Many times we use the Internet to access semi-legal/illegal download sites, share and accept potentially corrupt links or files and even share our personal computers with colleagues, friends, family and strangers (think Internet cafes).
Globally your chances of being attacked while online on any given day are one in 73 and in the US it's one in 48. While web threats, malware and viruses don't know boundaries, if we're conscious of how our surfing habits make us vulnerable we can better protect ourselves, regardless of location. AVG suggests backing up your computer with their AVG Free for PC's here: http://free.avg.com/us-en/download-free-antivirus?cmpid=sm_msrc_avf_blgs01. Mac owners can get AVG LinkScanner for Mac here: http://linkscanner.avg.com/mac?cmpid=scom_msrc_ls_blgs01
Below are the chances of being attacked by continent and country:
North America               1 in 51
Europe                          1 in 72
Asia                              1 in 102
Africa                            1 in 108
South America               1 in 164
Safest Countries:
Sierra Leone                  1 in 696
Nigeria                          1 in 442
Japan                            1 in 403
Riskiest Countries:
Turkey                          1 in 10
Russia                          1 in 15
Armenia                        1 in 24