Desk Pets has released SKITTERBOT, the world's fastest legged micro-robotic toy. It has a 5-function remote for racing, battling and exploring with other SKITTERBOTS, and its USB charger gives it a full charge for hours of use.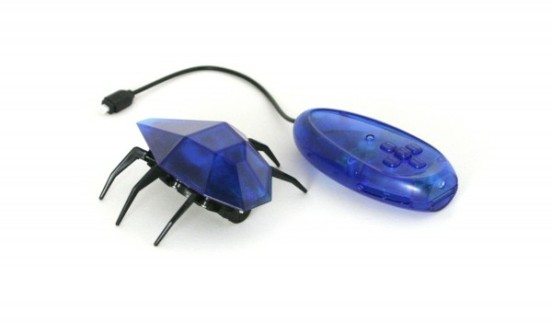 Here's the release……
Desk Pets International Unleashes SKITTERBOT, the World's Fastest Legged Micro-Robotic Toy
U.S. availability nationwide at Toys "R" Us and Radio Shack stores, the SKITTERBOT'S unique patent pending 5-function USB remote allows for full control and quick & easy charging
Toronto, Canada – (August 31, 2010)– Desk Pets International (HK) Limited, creator of interactive micro-robotic toys and gadgets with big-play value, releases SKITTERBOT, the world's fastest legged micro-robotic toy.  SKITTERBOT'S 5-function remote provides full control and the 4 color, 4 frequency system allows for racing, battling, and exploring with multiple SKITTERBOTS. With a built-in USB charger battery cost is non-existent, giving SKITTERBOT hours of inexpensive playtime. Available now for $19.99 at Toys "R" Us and Radio Shack stores nationwide, SKITTERBOT provides hours of enjoyment like no other toy on the market.
Skittering at a speedy one foot per second, the SKITTERBOT is the fastest micro-robotic toy commercially available. The remote is a simple controller that includes forward, backward, left, right, and stop buttons. SKITTERBOT'S controller comes equipped with a retractable USB charger which plugs directly into your desktop or laptop computer for charging. A quick 30 minute charge gives you 15 minutes of playtime. Once activated, SKITTERBOT comes alive with pulsing heartbeat eyes that provide a menacing glare as it scurries across the floor. Desk Pets' combination of micro-robotic technology and interactive game play placed the SKITTERBOT in the American Specialty Toy Retailing Association's (ASTRA) Top 30 Toys at the 2010 Toy Fair in New York City.
Desk Pets International Managing Directors, Michael Trzecieski and David Piltz, are excited about taking interactive toys to a whole new level with the SKITTERBOT. "We've designed 4 colors, each with a separate frequency. This allows multiple users to race and battle SKITTERBOTS, providing more interaction and more control than any other comparable toy on the market," says Trzecieski. Piltz highlights Desk Pets' unique patent pending USB remote technology that really puts SKITTERBOT in its own category. "Charging the SKITTERBOT is easy and affordable. No need to spend hard earned money on new batteries every week, simply charge via USB and you're good to go, quick, easy, and inexpensive."
SKITTERBOTS come in red, blue, green, and a clear shell which allows a closer look into the inner workings of the robotic bugs. To check out the SKITTERBOT video click HERE.
SKITTERBOT features include:
•    Fastest legged micro-robotic bug, traveling at one foot per second
•    5 function remote includes controls for forward, back, left, right, and stop
•    Retractable USB charger built into remote, 30 minutes of charge = 15 minutes of play
•    Flashing red heartbeat eyes pulse when robot is at idle
•    Each color (red, blue, clear, and green) operates on own frequency, allowing for multi-player racing and battling
SKITTERBOT is available nationwide at Toys "R" Us and Radio Shack for $19.99.