FanVision is an electronic handheld device that delivers video of sporting events to people who are already on-site, watching the live event in person. It provides some things that the average sports fan wouldn't be able to see from the stands.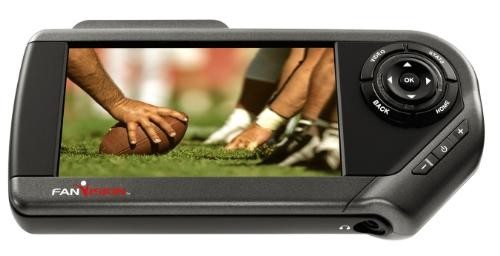 FanVision is currently partnered with 12 NFL teams and the University of Michigan, providing its video service at all of their home games. Users bring their handheld screen to the stadium with them, or purchase one there. While the game is going on, they can check out exclusive content such as instant replays from various angles, a highlight reel of the game, and of course, the Cheerleader Cam.
Other features include real time stats from around the league, live fantasy football updates, access to the NFL Red Zone channel, and the network telecast of home games. Keep in mind, however, it only works at participating venues – at home or on the road, it's useless.
The device itself has a 4.3 inch (109 mm.) LCD screen, and a six-hour battery life. While FanVision is already in use at Formula One, Le Mans, NASCAR and PGA Tour events, it will be introduced to the world of American football this fall. Devices will be available from the company website and at member teams' stadiums. It will cost $199 and after the first year of use, activation fees will also apply.
Here's the release……
FanVision Revolutionizes the In-Stadium Experience for NFL Fans
Fans Are Offered Unprecedented, Personalized Access to Instant Replays, Highlights and Live Stats; Will Launch at 12 NFL Stadiums This Season
FanVision, the ground breaking handheld device for enhanced viewing of live sporting events, today announced an unprecedented partnership with twelve NFL teams and one NCAA College Football Team (University of Michigan) to provide fans with revolutionary technological and viewing access during all home games. This will be the first time fans inside the stadium have ever been given the opportunity to control and personalize the viewing experience of an NFL game or NCAA Football game from the palm of their hand.
"There has never been a device in the history of the NFL that allows fans such unprecedented access and limitless personalization of their in-stadium viewing experience," said Carl Peterson, FanVision Advisor. "FanVision is a game-changing device and the closest that fans in the stands will get to the action on the field without putting on shoulder pads and a helmet."
"Before FanVision, fans were only given the director's point of view," said multi Emmy Award winning sports producer and FanVision Advisor Michael Weisman. "I have produced thousands of sports events, meets and games and there is nothing close to the FanVision experience that gives people the opportunity to actually control the way they view the game."
FanVision allows fans to literally take the game into their own hands and puts them in the driver's seat giving them ultimate control over all facets of the stadium, including:
Instant replay from multiple angles, including replays not offered on television or on the in-stadium video screens
Out Of Town Games
Real time stats from the home game and around the league
NFL Red Zone
Live Fantasy Football updates
The Network telecast of the home football game
On-Demand video featuring club-produced content
Cheerleader Cam
Highlight reel of the game
The portable FanVision device will make its official debut at the home openers of all participating teams and will work in any stadium that supports the program, allowing fans to take the entertainment device with them when attending FanVision enabled stadiums.
For the 2010-11 NFL season, FanVision will be available for purchase at all regular season home games for the following 12 NFL teams:
Arizona Cardinals
Buffalo Bills
Chicago Bears
Cleveland Browns
Denver Broncos
Miami Dolphins
Minnesota Vikings
New York Jets
Philadelphia Eagles
Seattle Seahawks
St. Louis Rams
Washington Redskins
In addition, FanVision devices will be available for all home games for the University of Michigan Wolverines football team which began September 4 with their home opener versus the University of Connecticut.
FanVision will be available for purchase for a limited time at a discounted introductory rate of $199 at the stadium of the participating teams and on-line at FanVision.com; the standard retail price for FanVision is $259 per device. Activation fees will be waived for the first year.
FanVision Personalities:
FanVision is led by some of the most recognized names in sports, including Miami Dolphins Owner Stephen Ross, Carl Peterson, and Michael Weisman. Peterson's 20 years with the Kansas City Chiefs has earned him the accolade of one of the longest career-running general managers in the league, and in 2009, Peterson was named Chairman of USA Football. Weisman has long been a fixture in the sports entertainment realm and is arguably the most decorated sports producer in the industry. Weisman's broadcast of the Seoul Olympic Games helped garner seven Emmy awards for NBC. FanVision will feature high-quality video content created by Weisman, whose involvement in the creation of the video for FanVision will provide spectators with unique and engaging segments unlike anything else available today.
For more information on FanVision, please visit www.FanVision.com.
About FanVision:
FanVision offers the ultimate sports fan experience for in-stadium event viewing. The Company has partnered with twelve NFL teams and the University of Michigan to offer the device and services to attending football fans at all 2010 season home games.  FanVision provides revolutionary technology to offer fans personalized access to exclusive content during on-site sporting events.  FanVision devices are currently being used for Formula One, Le Mans, NASCAR and PGA Tour events.