FREETALK® Handsfree, released by In Store Solutions, has been
released.   FREETALK Handsfree is the first Skype Certified super wideband
in-ear headset.  It offers a comfortable sound isolating headset that
delivers crisp, detailed sound.  It uses a standard 3.5 mm audio jack, so
you can plug FREETALK Handsfree into any PC, Mac, iPhone or iPad.  It is
also compatible with applications such as Truphone, and retails for $69.99.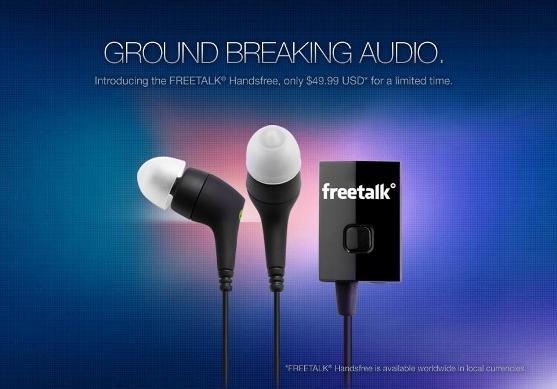 *Here's the release……*
**
**
*In Store Solutions Announces Availability *
Of New FREETALK Handsfree In-Ear Headset
The only hands-free microphone to pass Skype's super wideband audio
benchmark
GERONA, SPAIN— In Store Solutionstoday released the FREETALK® Handsfree, a
Skype CertifiedT sound isolating earphone and microphone.
In collaboration with MWM Mobile Products, a subsidiary of MWM Acoustics and
a world leading ODM supplier of in-ear monitors, FREETALK designed an
ultra-comfortable sound isolating in-ear headset which delivers crisp, clear
sound and utilizes super wideband audio for voice calls. It uses a standard
3.5mm audio jack that can be plugged into a PC, Mac, iPhone, iPod, iPad or
other device.
The FREETALK Handsfree is available for purchase globally from the Skype,
FREETALK and Amazon.com Web sites, and sells for just $69.99. It is designed
to take full advantage of Skype's SILK super wideband audio codec, which is
included in Skype 4.0 for Windows and later, as well as Skype 2.8 for Mac,
and Skype's SILK wideband audio codec, which is included in Skype for iPhone
2.0 and later versions of the app.
"FREETALK achieved the accolade of certifying the only hands-free microphone
that has ever passed the Skype super wideband audio benchmark," said In
Store Solutions Product Manager Mike Padmore. "The FREETALK Handsfree's
powerful rich stereo sound and full dynamic range will wow users."
*For more information about the FREETALK Handsfree headset or to make a
purchase, visit **www.skype.com/shop* <http://www.skype.com/shop>*, **
www.freetalk.me* <http://www.freetalk.me/>* or
**www.amazon.com*<http://www.amazon.com/>
*.*
*
About In Store Solutions
In Store Solutions is a channel innovator that enables manufacturers and
service providers to regain control of their brands and leapfrog the
inefficiencies of legacy distribution.  Utilizing its high-performance web
commerce platform, In Store Solutions enables companies to quickly implement
their own branded online stores and sell across borders to over 181
countries, in 44 currencies and 41 languages – all through a single
licensing agreement.
In Store Solutions then merchandizes those stores, with synergistic products
and cross-selling opportunities, all without sacrificing the primary brand's
supremacy.  Additionally, the company's "imagineering" team identifies new
and untapped market opportunities while creating product innovations
specifically designed to leverage and extend its clients' brands.
Come see what we've got In Store for you.