PLX Devices Inc. today unveiled the XWaveT, the world's first brainwave
interface accessory for the iPhone/iPod Touch/iPad. The XWaveT is a small
device worn over your head similar to any standard headphone device. Paired
with its apps, XWave allows you to control your mind and the world around
it.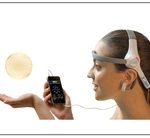 The XWaveT, powered by Neurosky Inc. technologies, for the first time brings
an extra sensory dynamic never seen before at the consumer level. For years,
this technology has been used by doctors to treat epilepsy and seizures in
patients. XWave senses the faintest electrical impulses transmitted through
your skull to the surface of your forehead and converts these analog signals
into digital signals.

The device comes bundled with the free XWave App. The App allows you to
become familiar with controlling objects with your mind and gives you an
opportunity to train your brain to control its attention and meditation
levels. With the application you will have to go through different stages to
control the function of your brain. Objectives include: having to levitate a
ball for a certain amount of time, change a color based on the relaxation of
your brain and training your brain to maximize its attention span. Another
app that is available for download from iTunes is XWave Tunes. This app will
allow users to connect with each other through the music that stimulates
their brainwaves.
"The human brain is the most powerful, complex thing in the universe, and
for the first time, we're able to harness its amazing power and connect it
to everyday technology," said Paul Lowchareonkul, Founder and CEO of PLX
Devices Inc. "With the development of 3rd party apps, the potential for
innovation is limitless."
PLX Devices Inc. is also offering 3rd party software developers the
opportunity to design and develop apps through its Software Development Kit
(SDK) program. This allows app developers to add compelling hardware
interfaces for any type of application. Whether it is relaxation, brain
training, entertainment, games, social networking, sports, sleep, the
possibilities are endless with the XWave hardware device. Some of the
applications that are being developed at the moment will allow you to play
games by controlling objects with your mind, control the lights in your home
or select the type of music through your iPod based on your mood.
*Availability*
The XWave hardware is available to purchase today September 7, 2010 and will
start shipping in October 2010 at a retail price of $99.99 from
www.plxwave.com. The XWave Apps by PLX Devices will be free from iTunes and
the Apple App Store and can be directly downloaded from your iPhone/iPod
Touch/iPad device starting early October. Additional 3rd party apps are
being added every day.
*About PLX Devices Inc.*
PLX Devices Inc., headquartered in Sunnyvale, CA, is a premier supplier of
innovative, cutting edge consumer electronics. The Company has divisions in
automotive tuning, automotive diagnostics, and displays. Visit
www.plxdevices.com