The NEMO Morpho 2P is a lightweight backpacking tent that trades conventional aluminum poles for support in favor of collapsible airbeams.  Poles tend to be clumsy to pack and set up, prone to breakage and add weight. New Hampshire-based NEMO decided to use air to keep the tent upright instead.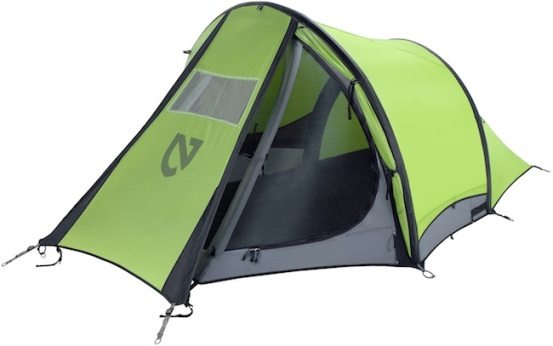 The way the NEMO Morpho 2P works is simple. The tent is shaped like a common two-person backpacking tent and setup begins the same way. Spread the tent out on flat ground and stake out the corners to pull it taut. But instead of assembling shockcorded aluminum poles and feeding them through sleeves on the tent, you connect a small, very lightweight foot pump to quick-connect fittings at the base of the tent. Less than a minute of pumping with your foot, and the tubes that run over the top of the tent become rigid, standing the tent up. The beauty of the design is the integration of support within the shelter meaning there's less to pack. If you have to set up camp in the rain, you can stake out the tent, crawl inside and stay dry while you pump up the tent around you.
The Morpho 2P packs small and weighs in at around five pounds, which is about standard for a two-person backpacking tent. Construction is waterproof/breathable nylon with a separate rainfly for when it rains. A vestibule lets you keep your soiled boots outside, and dimensions are roomy enough for an evening slumber. The new Nemo Morpho 2P- Pole-less Tent runs in the neighborhood of $350-$399, depending on where you purchase it.