Speedlink is about to introduce its CUE multi-touch mouse for PC users where the upper surface translates swipes, strokes and touches into onscreen actions. It also has a high precision optical sensor and connects wirelessly to a compact nano receiver from up to 26 feet away.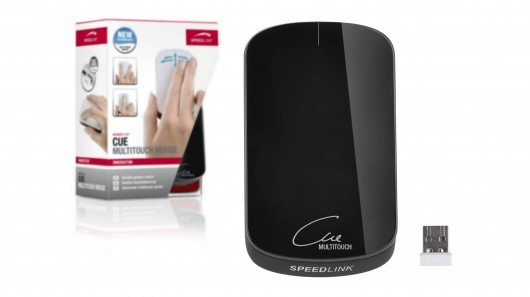 Whereas Microsoft's Arc Touch limits its touch capability to the position where you would normally find the scroll wheel, Speedlink's new CUE mouse turns over the whole surface to multi-touch gesturing. Sensors integrated into the CUE's upper surface recognize gesture input, allowing users to flick through photo collections or swipe scroll through web pages.
Speedlink's driver software allows you to customize commands and just a small movement of the finger is all that's needed to start programs, copy text or input key sequences. The CUE hooks up to the small format USB receiver seated in the computer via auto Smartlink over a 2.4GHz wireless connection.  It has a battery-saving mode and physical on/off switch.
The CUE will be available in black, white, metallic red and silver in November for $55.40.