The DashLink from Hell's Foundry replaces the stock fuel tank console on your Harley-Davidson with an integrated dock that securely holds your iPhone or iPod Touch, while keeping it charged and ready for use. The DashLink lets you see and use the iPhone screen, so you can listen to music while you ride, run a GPS application, and so on. Both the iPhone and the iPod Touch use sold-state flash memory, so vibration from the motorcycle or the road should not affect operation.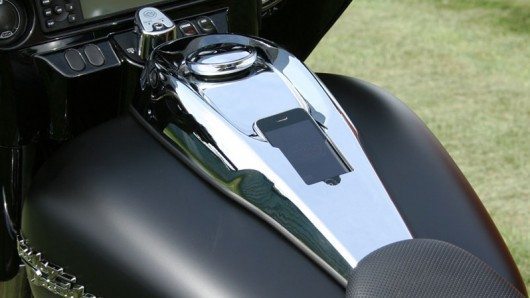 With the DashLink installed, all of the wiring is hidden. The DashLink features not only a power connection, but a line-level audio output for integration with your bike's existing sound system. You can also take advantage of the iPhone's Bluetooth capability to connect to earphones or a a headset while riding. On FLH and FLT models, you can even control the volume using the bike's stock handlebar controls.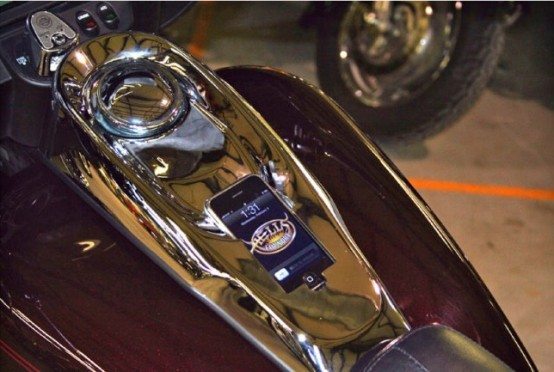 Hell's Foundry designed the DashLink with a smart charging system that detects whether your iPhone is installed. If no device is present, power is off. And because Mother Nature is one of the biggest threats to electronic devices on motorcycles, the DashLink is designed to route rain (or other liquids such as fuel) away from your iPhone/iPod Touch and the power connector.
The DashLink is available in chrome, gloss black, and carbon fiber to fit 1996 and newer Harley-Davidson FLHT/FLTR and FLHR models. Hell's Foundry says Sportster, Softail, and Dyna versions will be available soon. The DashLink is available for preorder for $400, with shipments expected in January 2011.