The ZTE Peel, which adds a 3G data connection to your 2nd or 3rd gen iPod Touch, will officially hit Sprint on November 14th for $79.99. Just keep in mind that it won't add a native calling feature or SMS to the device, but does enable up to two other WiFi devices to connect to the net, courtesy of its mobile hotspot feature.  Your monthly cost will be $29.99 and you'll be capped at 1GB of data.  As with all Sprint devices you can try it out for 30 days and if you're not satisfied you can return it for your full money back.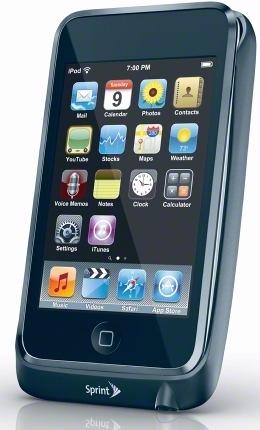 Here's the release…..
ZTE PEEL Brings Sprint's 3G Network Reliability to Apple iPod Touch; Creates Mobile Wi-Fi Hotspots

Unique form factor of ZTE PEEL™ cradles Apple® iPod touch® for easy access to Sprint's 3G data speeds; available Nov. 14

OVERLAND PARK, Kan. (BUSINESS WIRE), November 10, 2010 – Beginning on Nov. 14, Sprint (NYSE:S) customers can attach ZTE PEEL™ to their Apple iPod touch and connect to Sprint's 3G network. ZTE PEEL is a unique device that cradles the second- and third-generation iPod touch with a case-like form factor. With universal Wi-Fi compatibility and support for up to two Wi-Fi enabled devices, iPod touch users will have a virtually anywhere, anytime Internet connection that removes the reliance on a Wi-Fi hotspot for a data connection. Customers simply slide their iPod touch (touch-screen face out) into ZTE PEEL, press down on both sides until it clicks into place, and then press the power button located on the back of ZTE PEEL to connect to Sprint's 3G network.

ZTE PEEL will be available beginning Sunday, Nov. 14, through Sprint retail stores and direct ship sales channels, including Web sales (www.sprint.com) and Telesales (1-800-SPRINT1) for $79.99 (taxes excluded). The ZTE PEEL $29.99 monthly service plan from Sprint allows up to 1GB of 3G data on the Sprint network (taxes and surcharges excluded) with no annual contract required.

"ZTE PEEL unlocks the wonderful user interface and Web experience of Apple's popular iPod touch and transforms it into a powerful mobile device using the Sprint 3G network," said Fared Adib, vice president-Product Development. "When combined with Sprint's 3G network, ZTE PEEL turns an iPod touch from a portable device limited by the availability of Wi-Fi to a mobility tool free to browse the Web and use applications anytime, anywhere while on Sprint's 3G network."

Key features of ZTE PEEL include advanced security through WEP, an internal antenna and compatibility with Windows® 7, Windows Vista®, Windows XP®, Macintosh® OS 10.5, 10.6. No software installation is required for use.

"ZTE is proud to continue to grow our relationship with Sprint, and we are excited to bring this ground-breaking product to Sprint's already innovative portfolio," said Joey Jia, general manager-ZTE USA. "We are committed to providing our partners with products that drive consumer demand and present a competitive edge."

The nationwide Sprint 3G network provides access to a full range of apps that require internet connectivity to perform, including VOIP, gaming, streaming news and real-time sports updates. With ZTE Peel supporting up to two hotspot connections, users can also enable laptops, tablets and other mobile devices with 3G data speeds.

Reliability from Sprint 3G

ZTE PEEL will operate on the Sprint 3G network, and customers can be confident in their ability to stay connected. According to the results of a 13-city test conducted by PC World on 3G performance, no one has a more reliable network than Sprint. For the second consecutive year, Sprint's reliability rates were second-to-none.

PC World's test involved Sprint, AT&T, Verizon and T-Mobile in 13 major cities in all regions of the country during December 2009 and January 2010. In all, roughly 9,000 individual tests of Sprint's 3G service were conducted from 280 testing locations. Testing sessions were one minute in duration per location, and network performance can be highly variable from neighborhood to neighborhood. In laptop-based tests, Sprint tied with another carrier for first in 3G network reliability.2

With the Sprint Free Guarantee, customers can take advantage of ZTE PEEL for 30 days. If not completely satisfied, customers may return the device within 30 days to get reimbursed for the device purchase and activation fee, get the restocking fees waived, and receive a full refund for the monthly service plan charges.