Available at Radio Shack this Christmas, is the intensely interactive Prime-8 RC Robot.  It is the fastest biped robot with character and attitude. Prime-8 is powered by a battery of sensors that allow him to respond to people and his environment. The internal sensors measure his orientation constantly, and prompt him to right himself when he falls down.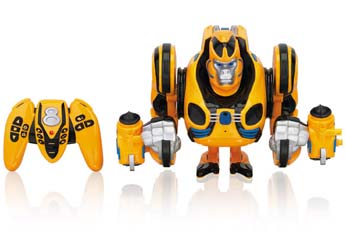 The outbound sight and sound sensors assist Prime-8 movement around obstacles and respond to questions with grunts and growls to express his voracious temper. Finally, the motion detection sensors keep the Prime-8 on alert so that he can chase away intruders by firing projectiles or rockets.
The Bossa Nova I Love Robots Prime-8 is available at Radio Shack now for $79.99.