ElectroHub Universal wireless charger introduced at CES 2011
-While wireless charging stations for electronics is hot, it has a few shortcomings, mainly the fact that they require the battery-operated devices to be compliant with the wireless charging standard they use. This means other products, namely the majority of all electronics, won't be able to take advantage of them.
The ElectroHub, which will debut at CES 2011, is a new wireless charging station that's designed to work with virtually all electronic devices. Though the details are vague, basically this new charging station works similarly to the way the Powermat does, but instead of requiring the electronic device to be complaint (i.e., by using a special case), it provides ElectroHub batteries, which come in standard sizes like AA and AAA.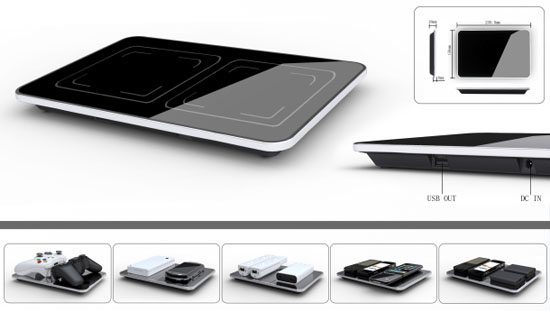 By swapping the device's original battery for an ElectroHub battery, you'll turn it into one that's ElectroHub-compatible, and now you can charge it just by putting it on top of the ElectroHub. The hub–measuring 9.2 inches by 6.1 inches by 0.8 inch (233 x 155 x 20mm) and weighing only 11 ounces (312g)–is designed to charge up to six devices at a time.
Obviously, there are devices that have nonreplaceable batteries. In this case, the user can get a protective case that works as a converter to charge the device's internal battery with the hub, similar to how the Powermat works.
The ElectroHub is slated to be available during the first quarter of 2011 and will cost $39, which includes one set of ElectroHub batteries. Other battery sets can be purchased separately and are estimated to cost another $10, which is about the same price as a set of generic rechargeable batteries.
Posted 12/9/10