Netgear Universal Wi-Fi Range Extender
–The best way to extend your wireless network in your home or office is with the Netgear Universal Wi-Fi Range Extender.  It features 4 Ethernet ports for connecting compatible gaming consoles, Blu-ray Disc players and more. The Wi-Fi Protected Setup connects the extender to your computer securely, and really is about as easy as it gets to setup.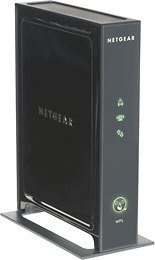 The Netgear Universal Wi-Fil Range extender works with any wireless b/g/n router or gateway from NETGEAR and other brands, and with all security standards including WPA-PSK, WPA2-PSK, mixed mode and WEP.  Its Real-time link-rate LED locates the best placement spot to provide optimal wireless coverage, and the Step-by-step, graphical Installation Guide makes installation a snap. There's no need to insert a CD or plug in Ethernet cables.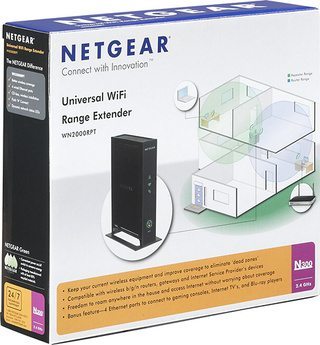 As Netgear claims, I set this thing up in about 5 minutes.  On your available networks, it appears as the name of your network plus the extension "EXT".  That way you can distinguish from your primary connection and your Network Extender connection.  And boy does it work.  I increased linear and verticle coverage by as much as 250 ft.  And the connection seems to almost improve speed of your primary connection, for whatever reason. I also really like the 4 Ethernet ports for extending the use of the Extender to other devices.
The Netgear Universal Wi-Fi Range Extender sells for around $79.99 to $99.99, depending on where you find it.  It's sold through major retailers and online retailers.  I highly recommend this product for a super-affordable and effective way to extend your wireless connections throughout a home or office.
Posted 12/18/10