Suzuki new Kizashi iPad/iPhone App- "Ring of Fire"
—American Suzuki's new Kizashi™ Ring of Fire racing game app is out, and is available for both the iPad and iPhone as a free download from the App Store.  The Kizashi™ Ring of Fire racing game app offers consumers a virtual opportunity to experience the Kizashi sport sedan on four tracks inspired by the adventurous Tokyo to L.A. road trip.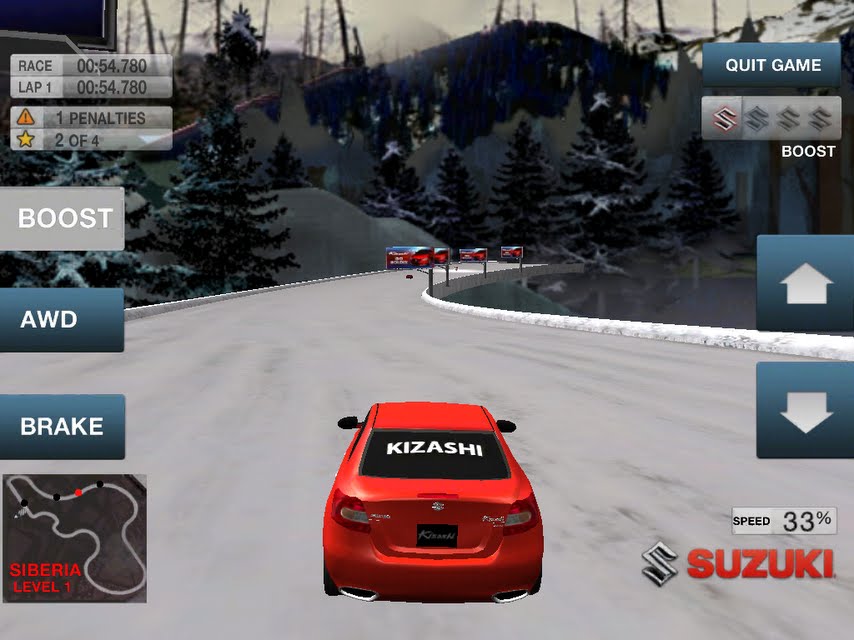 The Kizashi™ Ring of Fire app for iPad and iPhone is a single player racing game that combines both world-class design and high performance. Players experience the Kizashi in four fantasy track locations – Tokyo, Siberia, Alaska and Los Angeles – locations recently visited on the Tokyo to L.A.:  The Hard Way road trip. In the game, players race the 2011 Kizashi SE on the first two tracks and the 2011 Suzuki Kizashi Sport GTS on the more challenging third and fourth track. To enhance the experience, the app uses the iPad and iPhone motion sensors for dynamic steering and players can activate AWD to enhance vehicle handling, or use special Suzuki boosts to enter super-fast warp mode.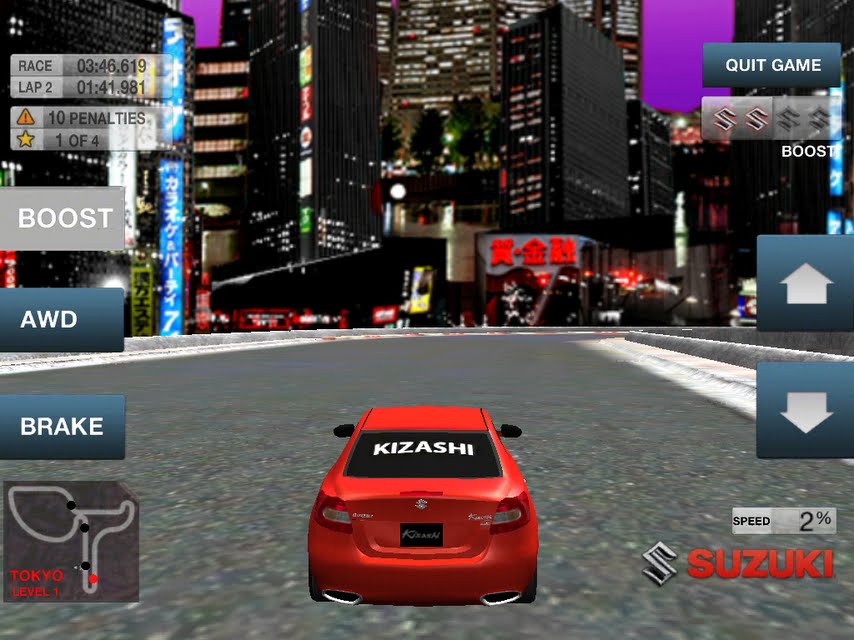 Here's the release…..
SUZUKI RACES TO iPAD™1 / iPHONE® "FIRSTS" WITH KIZASHI RING OF FIRE GAME

·         Kizashi™ Ring of Fire app is the first commercial racing game to implement Brass Monkey®2 remote control technology.
 
·         Suzuki becomes first automaker to develop a performance racing game specifically for the iPad and iPhone.
 
·         App highlights recent Tokyo to L.A.:  The Hard Way road trip and the 2011 Suzuki Kizashi SE and Kizashi Sport GTS.
    ·         Perfect iPhone and iPad download for auto enthusiasts and gamers this holiday season.
 
BREA, Calif. (Dec. 22, 2010) – American Suzuki Motor Corp. (ASMC) today announced the launch of the Kizashi™ Ring of Fire racing game app, bringing its popular online game to life on both the iPad and iPhone as a free download from the App Store just in time for the holidays. With this launch, Suzuki builds on its multiplatform approach to promote the all-new Kizashi sport sedan in conjunction with the company's intercontinental road trip Tokyo to L.A.:  The Hard Way, which concluded this summer. In addition, the Kizashi™ Ring of Fire app becomes the first commercial racing game powered by Brass Monkey remote control technology, which debuted at E3 in Los Angeles earlier this year.
 
"The Kizashi™ Ring of Fire racing game app offers consumers a virtual opportunity to experience the Kizashi sport sedan on four tracks inspired by the adventurous Tokyo to L.A. road trip," said Jeff Holland, associate director of public relations and social media of American Suzuki. "Suzuki's new app further positions the company as an innovator in the digital space among other automakers, and is a great download for those receiving iPhones and iPads this holiday season."
 
The Kizashi™ Ring of Fire app for iPad and iPhone is a single player racing game that combines both world-class design and high performance. Players experience the Kizashi in four fantasy track locations – Tokyo, Siberia, Alaska and Los Angeles – locations recently visited on the Tokyo to L.A.:  The Hard Way road trip. In the game, players race the 2011 Kizashi SE on the first two tracks and the 2011 Suzuki Kizashi Sport GTS on the more challenging third and fourth track. To enhance the experience, the app uses the iPad and iPhone motion sensors for dynamic steering and players can activate AWD to enhance vehicle handling, or use special Suzuki boosts to enter super-fast warp mode.
 
Brass Monkey remote control technology enables users to turn their iPad or iPhone into a virtual steering wheel.  The player connects the device to a computer via WiFi connection and controls the hero vehicle in the online game.   
 
"We are very excited about Suzuki being the first to use Brass Monkey in a digital marketing campaign," said Chris Allen, President and CTO of Brass Monkey Inc. The Kizashi™ Ring of Fire is fun on its own, but steering the car with your iPad or iPhone as a controller really makes it an immersive experience. It's almost as if you are driving the actual Kizashi, because the mechanics are very similar to using a real steering wheel. We see games like this being the future of what brands will be doing with our technology, and it's wonderful to see that Suzuki is so forward thinking in this regard."
Specially designed Kizashi™ Ring of Fire game kiosks with the Brass Monkey technology will be displayed at select 2011 auto shows for consumers to play the game and experience the Suzuki Kizashi in a new way. These auto shows include the Philadelphia International Auto Show (Jan. 29 – Feb. 6, 2011), Chicago Auto Show (Feb. 9 – 20, 2011), Denver Auto Show (March 30 – April 3, 2011) and New York International Auto Show (April 20 – May 1, 2011).
 
To download the app, visit the App Store and search for "Suzuki" or "Kizashi" and select the free "Kizashi Racing Game."
 
2011 Suzuki Kizashi and Kizashi Sport
As AutoPacific's 2010 Vehicle Satisfaction Award and Ideal Vehicle Award winner, the Kizashi redefines the traditional performance sedan and moves the Suzuki brand upscale without abandoning Suzuki's traditional emphasis on content and value. This year, the Kizashi's content and value is enhanced with the addition of 18-inch alloy wheels fitted to the popular SE trim level. Furthermore, its active and energetic DNA is augmented by the vehicle's overall mission to provide a strong, refined and safe urban performance.
 
For 2011, Suzuki brings the Sport trim to the GTS and SLS models, adding a host of external and internal modifications, including a more muscular front fascia (with chrome accents) and lower grille, body side sill extensions, lower body side molding with chrome accents, a trunk-mounted spoiler, custom lightweight 18-inch alloy wheels appropriate to a flagship vehicle, unique sport steering wheel and contrasting stitching on the leather seats, shift boot and emergency brake boot. The end result is a sport sedan with crisp handling enveloped in a well-controlled ride, one typically found in more expensive, premium sport sedans.
 
All aspects of the Kizashi™ Ring of Fire app are managed by Suzuki's digital agency, Matrix Consultants of Los Angeles. For the online racing game and app, Matrix collaborated with the interactive firm DVELOP of Culver City, Calif. The app was developed for iPad, iPhone 4, iPhone 3GS, iPhone 3G and will be available for free in the App StoreSM.
 
1 Apple, the Apple logo, iPhone, iPod Touch and iTunes are trademarks of Apple Inc., registered in the U.S. and other countries. iPad is a trademark of Apple Inc. and App Store is a service mark of Apple Inc.
2 Brass Monkey® is a registered trademark of Brass Monkey. 
 
About Suzuki
The Brea, Calif.-based Operations of American Suzuki Motor Corporation (ASMC) was founded in 1963 by parent company Suzuki Motor Corporation (SMC) and currently markets its vehicles in the United States through a network of approximately 300 automotive dealerships and numerous other motorcycle, ATV and marine distributors in 49 states. With global headquarters in Hamamatsu, Japan, SMC is a diversified worldwide automobile, motorcycle, and outboard motor manufacturer. In 2009, SMC sold more than 2.3 million new cars and trucks and more than 2.8 million motorcycles and ATVs. Founded in 1909 and incorporated in 1920, SMC has operations in 196 countries and regions. For more information, visit www.media.suzukiauto.com. Suzuki can also be found on Twitter (@SuzukiAuto), Facebook (www.Facebook.com/SuzukiAuto) and YouTube (www.YouTube.com/SuzukiAutomotive).
 
Brass Monkey's patent pending technology transforms an iPhone or other smart device into an intuitive controller for web based single or multi-player games. Using Brass Monkey software, experiences previously only available through game consoles like Nintendo Wii are now possible using WiFi enabled electronics. Brass Monkey provides fully immersive experiences with displays ranging from personal computers, Internet enabled TVs, kiosks and large billboards. Headquartered in Boston, Brass Monkey's mission is to build and deploy developer tools that will become the worldwide standard for use in connecting mobile devices and displays. Further information can be found at http://brassmonkeysdk.com
Posted 12/23/10