Verizon Wireless 2011 LTE city roll out leaked
—-Verizon Wireless is lighting up the country with 4G LTE.  BLog Droid-life has got a hold of what they are reporting to be some of the next cities Verizon looks to be launching 4G service.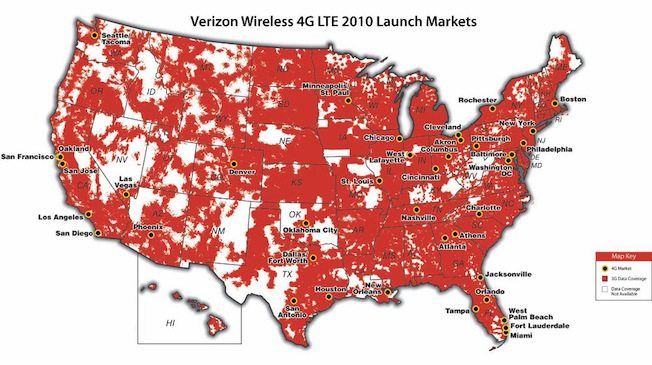 At the end of 2011, we should see at least 140 markets be blanketed with LTE coverage, and by 2013, Verizon is aiming to have at least 2/3 of the country covered.
Here are the cities, confirmed by Verizon
Mobile, Alabama
Montgomery, Alabama
Little Rock, Arkansas
Colorado Springs, Colorado
Gainesville, Florida
Lakeland-Winter Haven, Florida
Pensacola, Florida
Sarasota-Bradenton, Florida
Tallahassee, Florida
Augusta, Georgia
Honolulu, Hawaii
Kahului-Wailuku, Hawaii
Lahaina, Hawaii
Boise-Nampa, Idaho
Carbondale-Marion, Illinois
Wichita, Kansas
Baton Rouge, Louisiana
Hammond, Louisiana
Detroit, Michigan
Flint, Michigan
Fayetteville-Lumberton, North Carolina
Greensboro-Winston-Salem-High Point, North Carolina
Raleigh-Durham, North Carolina
Wilmington, North Carolina
Dayton-Springfield, Ohio
Tulsa, Oklahoma
Erie, Pennsylvania
State College, Pennsylvania
Charleston, South Carolina
Columbia, South Carolina
Greenville-Spartanburg, South Carolina
Hilton Head, South Carolina
Sioux Falls, South Dakota
Chattanooga, Tennessee
Clarksville, Tennessee
Cleveland, Tennessee
Kingsport, Tennessee; Johnson City, Tennessee; Bristol, Virginia/Tennessee
Knoxville, Tennessee
Memphis, Tennessee
Beaumont-Port Arthur, Texas
Bryan-College Station, Texas
Provo-Orem, Utah
Salt Lake City-Ogden, Utah
Centralia, Washington
Olympia, Washington
Charleston, West Virginia
Madison, Wisconsin
Milwaukee, Wisconsin
Posted 1/15/11