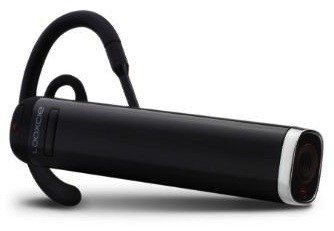 Looxcie has come out with a follow-up to their first product, the Looxcie wearable bluetooth camcorder.  The Looxcie was a revolutionary step in terms of Bluetooth headsets.
The company took a step back and looked at all of the things the Looxcie wasn't, and they just announced the next iteration of the device, the Looxcie 2.  It's 20 percent lighter (just 22g) than the first version and almost half the size.  They've also improved the resolution to 480p, making it much more relevant by today's video standards, though users can still opt for 320p if they wanna save some space.
Two versions of the Looxcie 2 will be available, 4GB and 8GB, providing 5 hours and 10 hours of video respectively.  Looxcie has also developed a few attachement for those in the extreme sports category, allowing them to attach the device to helmets and other head gear.  This could make a huge dent in the extreme sports camera category, considering the Looxcie 2 is quite a bit smaller than its competitors, and much more wearable-friendly.
Expect battery life to cap out at 4-hours with continuous use.  And by the way, the Looxcie 2, like its predecessor, allows users to record video while simultaneously connecting to a smartphone for calls.  The first iteration of the device recorded on a 30 second loop until the user hit a 'save' button, where upon the video could be sent to a phone for distribution.  It's not clear if this version will have a bigger loop, chances are you'll be able to customize it.
The Looxcie 2 is available now for $199.99 and $179.99.  If you "like" them on Facebook, you'll save an additional $20.  You can still buy the original Looxcie at [amazon_link id="B004DI7F76″ target="_blank" ]Amazon here[/amazon_link] for around $160.
Check out the video demo, the Looxcie 2 on a roller coaster….