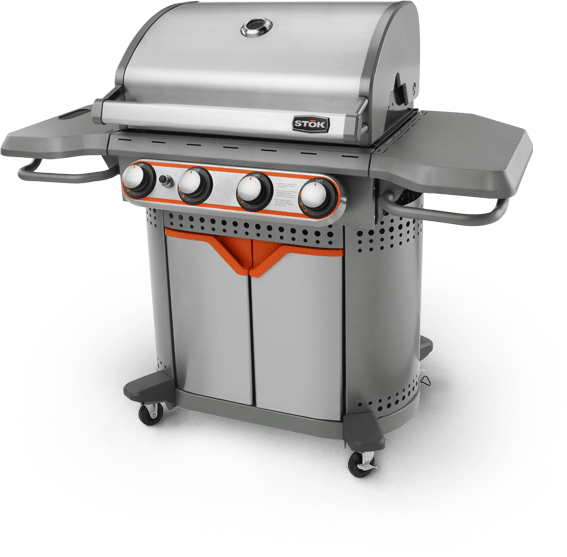 If you believe that a good gas grill is a by-product of the accessories it offers, then you'll love the Stok 4-Burner Quattro Gas Grill.  The Stok Quattro has removable cooking grate sections you can convert to use as a griddle, vegetable basket or pizza stone, all without turning off the grill or stopping your cooking. The unique design of this grill gives you a tremendous amount of versatility in a complete unit. The best part is that all these extras come standard.
Star Rating:

Price: $299
Where to buy: Home Depot
The Stok Quattro is truly a a revolution in grilling. The two porcelain coated cast iron cooking grates have round, removable sections in the middle that can be swapped out for accessories like a pizza stone, a griddle, or a vegetable basket.  You can store these accessories in the below cabinet, and you get a special tool to remove them while hot. This means you can switch between the different components without turning off the grill, with the exception of the pizza stone which cannot be gripped by the tool.
The Stok burns at 48,000 BTUs, and provides 600- square inches of cooking space, (475 sq-in of grilling space, and another 125 sq-inches for the warming rack). The porcelain coated cooking grates are heavy enough to give you good heat transfer.
The Quattro also uses an electronic ignition to begin grilling on a quick start. It also features a built-in temperature gauge to make it more convenient for barbecues and other foods.
While Lowes has been selling their own store branded grills for several years now, Home Depot has yet to bring a dedicated store brand to the market.  They've traditionally sold major name brand grills at fairly competitive prices….until now.  Home Depot recently introduced the Stok line as their own exclusive brand.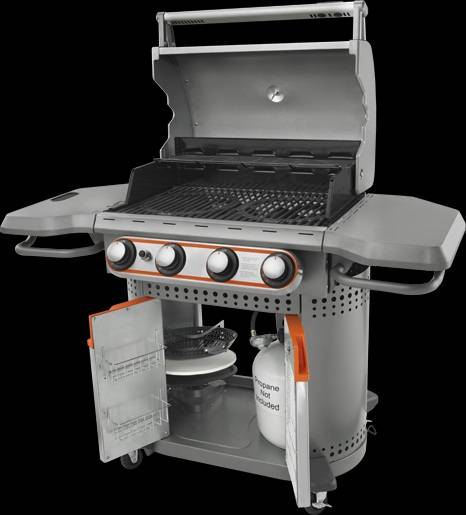 While gas grill accessories aren't anything new to the industry, the Stok's removable cooking grate system is something we've never seen before, and is the perfect design for someone who loves to grill a wide variety of food.  With the Stok Quattro, you can grill anything from waffles to pizza.  Aside from the new design, Stok has a fairly sturdy cart, wheels, and knobs, and is built about average for this price range.  It does, however, suffer from thinner burners and internal components, but offers an impressive warranty to combat those fears.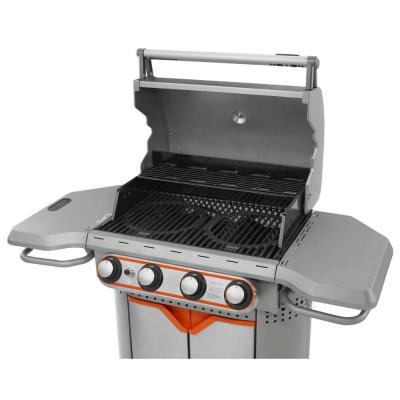 Overall, the Stok is an interesting new brand of grill that gives you lots of flexibility in grilling whatever type of food you like at a fairly low price.  If you're in love with the interchangeable grate system, this might be a fun grill to consider.  During my tests, I found out that most of the foods I cooked came out as promised.  Pizza was crisp, steak was seared and juicy, and even the sauteed vegetables turned out perfect.  I had zero problems with interchanging grates, and I found the Stok to be a grill that could pretty much cook the whole meal.
You can get the Stok 4-Burner Quattro Gas Grill at Home Depot for around $350.  Currently, the Home Depot is running a special on this grill for $299.
Check out the Stok 4-Burner Quattro Gas Grill on video….
http://youtu.be/ABdjkPLgv_E