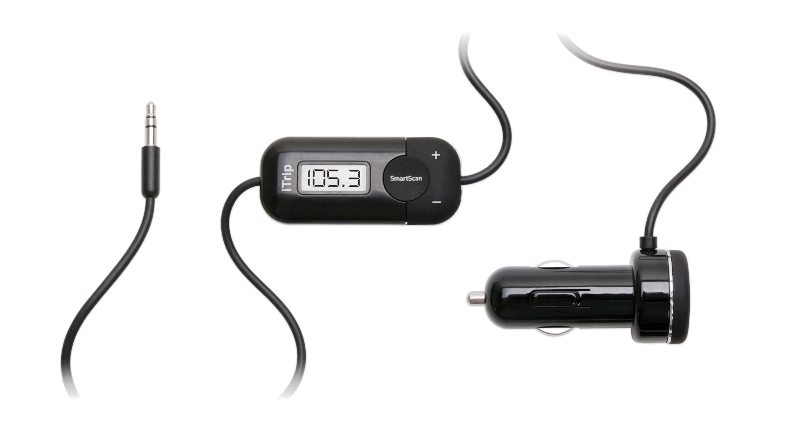 If you've never heard of the company Griffin Technology, you're in for a treat.  Found in major retailers like Walmart and Target, Griffin Technology makes and markets products such as cases, chargers, cables, home & car audio for iPhone, mobile devices and PCs.
The company began designing and manufacturing technical solutions with an innovative flair in 1992.  They've since grown to become one of the largest providers of accessories for personal computing and digital media. Today, Griffin designs, manufactures and delivers useful and fun solutions for digital entertainment and personal computing to people in the Americas, Europe, and Asia, through major retailers and online.
Star Rating:


Cost: $25-$49
Where to Buy: [amazon_link id="B003SX0O2A" target="_blank" ]Amazon[/amazon_link], Griffin
Over the course of the next few months, I'll be reviewing several Griffin Technology mobile accessories, and in this article, we'll be looking at the iTrip Auto Universal Plus, an FM Transmitter and charger for your MP3 player or mobile smartphone device.

The iTrip Auto Universal Plus is a fairly recent addition to the ever expanding line of Griffin iTrip radio transmitters, originally designed for the iPod and now branching into other devices such as the PSP and Smartphones as well.  the "Auto Universal Plus" is designed for really any media or smartphone device with a 3.5mm headphone jack.  As one may guess from the name, the iTrip Auto is intended for use in your car.  It uses a 12v-cigarette lighter jack for power, and has an additional USB port on the top of the jack to charge your phone or media device.
While FM transmitters will never rival direct line-in solutions for sound quality and lack of frequency fuss, Griffin's iTrip Auto Universal Plus FM transmitter is a very affordable way to pipe music into your car's music system, from your portable media device/smartphone, without dropping a grand on a new in-car audio system.
The iTrip packaging, and for that matter all Griffin Technology products, is sharp and has a high tech look.  You'll find Griffin products at retail chains like Target, in the familiar orange, white and black hang-tags.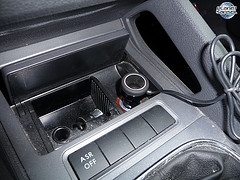 Installing the [amazon_link id="B003SX0O2A" target="_blank" ]iTrip Auto Universal Plus[/amazon_link] is a snap.  You simply plug it in into your car's cigarette adapter, and plug the other end into your phone's headphone jack.  That's it. Then, look for an open radio frequency to transmit on.  The 'Smart Scan' feature on the iTrip will assist you with this, locating a good and clear frequency to transmit. Frequency can also be changed by using the +/- button on the iTrip, with a backlit LCD readout of the current selection.  It's simple and straight forward.
As I mentioned earlier, some lower-quality FM transmitters on the market offer you, shall we say, very poor sound and transmission, with a lot of static.  The iTrip Auto Universal Plus finds strong FM signals, and punches through any surrounding station with very good quality sound and little interference.
The integrated charger is a real treat with this product, powering your device via a USB port, and provides a much more neat cable management scenario compared to other solutions. Other competing solutions need a power jack, an audio cable, and power for your device.  Those old solutions look like your device is in surgery. The iTrip Auto Universal Plus is clean, neat, and using fewer cables in an automobile is plain awesome!  The iTrip Auto Universal Plus has a nice exterior finish, fits into most cars subtly and doesn't advertise your device to potential thieves.
The [amazon_link id="B003SX0O2A" target="_blank" ]iTrip Auto Universal Plus[/amazon_link] also uses a line-out from your device, which means that volume level can be taken care of by the device itself, so there is no screwing around trying to find the 'optimum' volume for the best sound quality.  I do like the fact that the FM Transmitter is located on the line itself, so you don't have a large dash-mount or additional hardware to try and cram around your dash.
If you're looking for a well-made, sleek FM Transmitter for your car, I definitely recommend the[amazon_link id="B003SX0O2A" target="_blank" ] iTrip Auto Universal Plus by Griffin Technology[/amazon_link].  In terms of value, at $49.99,  it's not the cheapest transmitter, but when it combines great functionality as well as integrating charging and transmission in one unit, it makes more sense at that price.  I also found it on [amazon_link id="B003SX0O2A" target="_blank" ]Amazon[/amazon_link] for significantly less….right under $25.
For more information on the product, visit Griffin Technology's website.
Check out the video demo…..