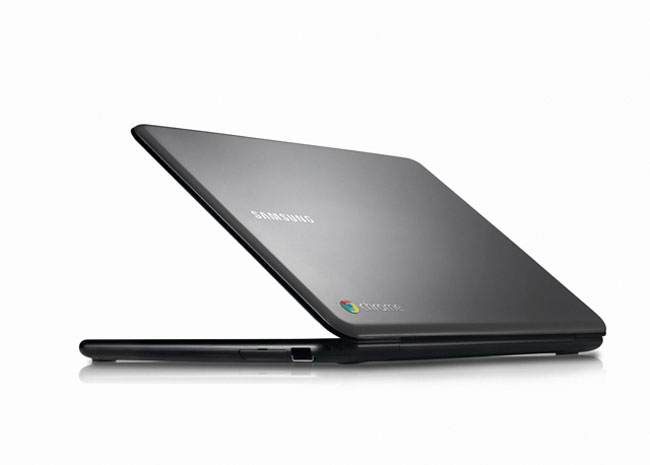 Samsung has just introduced a new Chromebook.  Specifically, it's a WiFi only version and is part of the Series 5 Chromebook line.
The Chromebook has a 12.1-inch screen that can display 1280×800 pixels. It runs an Intel Atom Dual-Core processor, has WiFi, but 3G is not available on this model.  Additionally, a webcam is built in along with a mini-VGA port.  It also has a slightly tweaked version of Chrome OS, two USB 2.0 ports and a memory card slot.
Design-wise, it sports a comfortable keyboard and surprisingly solid 0.8-inch-thick chassis.
The Series 5 WiFi model runs $349 and launches with the latest version of Chrome OS. It is available over at Amazon, Best Buy, NewEgg and Tigerdirect.
Incidentally, Acer just cut the price of their AC700 Chromebook.  It'll now cost $299 for the WiFi-only version (down from $349) and $399 for the Verizon Wireless 3G model (it had been $449).
Check out the TigerDirect video and full press release below…
http://youtu.be/V6LCi1Uhang
SAMSUNG SPREADS HOLIDAY CHEER THIS YEAR WITH THE INTRODUCTION OF A NEW SERIES 5 CHROMEBOOK

Test Drive a Series 5 Chromebook at the Samsung Experience at Columbus Circle and Discover a Hassle-Free Web Lifestyle

What:
Just in time for holiday giving, Samsung is introducing a Piano Black version of its WiFi-only Series 5 Chromebook. At a price of $349, the updated Series 5 is even more giftable than the original.

Chromebook, based on Google's Chrome operating system, is designed to provide people a faster, simpler and more secure computing experience. Due to automatic software updates, Google has continued to release new features and improvements on an ongoing basis. These new features coupled with the Samsung design aesthetic creates a technology device that gets better over time, offering the best possible web experience in one device for the internet-enthusiasts in all our lives.

Fans in the New York City-area can test drive the Series 5 Chromebook at the Samsung Experience at Columbus Circle and even borrow one for up to seven days to get a feel for the device.

Where:
The new Series 5 Chromebook is available now at BestBuy.com, Amazon.com, Tigerdirect.com and NewEgg.com. For a full list of availability call 1-800-SAMSUNG or visit www.samsung.com.

MSRP:
$349 – Wifi only

Key Specs:
– 0.79-inch thin case designed for comfort and mobility
– Full-size Chrome keyboard
– Oversized multi-touch trackpad
– Intel® Dual-core Processor
– 16:10 resolution
– 2.1-inch SuperBright Display – 36% brighter than standard display
– Starts up in less than 10-seconds
– Resumes instantly from standby
– Up to 6 hours battery life*
– Webcam, built-in digital microphone and stereo speakers
– Two USB ports capable of charging mobile phones and accessories, connecting digital cameras and media storage devices
– Support for removable media cards (SD, SDHC, MMC) for photos, videos, music and documents