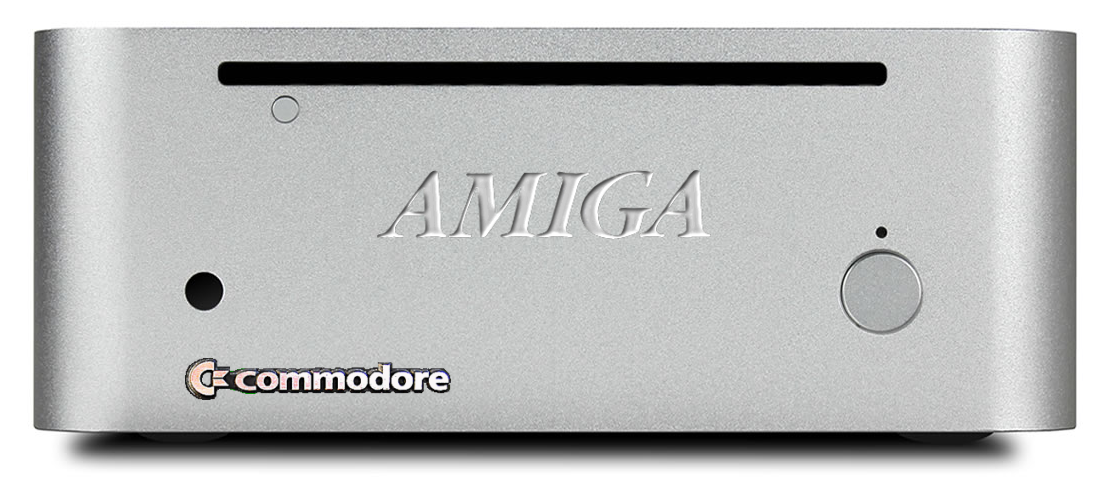 Commodore is following up its retro throwback, the C64x, with a new small-form-factor PC, the Amiga Mini.   Stuffed inside is a 3.5GHz Core i7-2700k CPU, 16GB of DDR3 memory, NVIDIA's GeForce GT 430 (1GB), a WiFi radio and a 1TB HDD that can be swapped out for a 300GB or 600GB solid state drive. There's a slot-loading Blu-ray drive by default and internal space for a pair of 2.5-inch drives

The Commodore Amiga base model starts at $2,495, and includes a copy of its Commodore OS Vision. The company's also revealing the C64x Supreme, the new VIC mini and a more powerful VIC-Slim keyboard computer (which now includes an HDMI output).

Check out the specs and full press release…
A massive 16 Gigs of fast DD3 memory.
Integrated nVidia Geforce GT 430 Graphics with 1 Gig of DD3 memory.
The ability to drive 3 monitors displays.
HDMI, 2-Dual DVI and DisplayPort output. (includes VGA adaptor)
7.1 channel high definition sound.
6 Gb/s SATA for incredibly fast HD reads.
4 USB 3.0 and 4 USB 2.0 ports for exceptional external data access.
A slot loading Blu-ray drive that can also write DVDs.
2 WiFi antennae for outstanding signal reception.
A 1 Tb Hard Disk to store video and personal data.
Optional 300 or 600 Gb SSD drive for lightning quick load times.
COMMODORE USA RELEASES FIRST NEW COMMODORE AMIGA IN 20 YEARS, FINALLY REUNITING TWO ICONIC COMPUTER BRANDS.

FORT LAUDERDALE, FL. March 21, 2012 – Commodore USA, LLC announced today the historic re-unification of the legendary Commodore and AMIGA brands with the launch of the new Commodore AMIGA mini, as well as other new models such as the new C64x Supreme, the new VIC mini and a more powerful VIC-Slim keyboard computer (now with HDMI output). These new products are now in production and available for purchase at www.CommodoreUSA.net.

The new Commodore AMIGA mini is a trail blazing power-house featuring Intel's i7-2700k 3.5 Ghz Quad-Core (3.9Ghz Turboboost) processor, 16Gb RAM DDR3 1333MHz and an NVIDIA® GeForce® GT 430 GPU with 1GB DDR3. This machine is fully loaded with a 1 TB SATA drive (optional 300 GB or 600 GB SSD), two WiFi antennae and bluetooth. The new Commodore AMIGA mini case is ultra small and features a solid, all aluminum seamless housing, micro-sandblasted with an anodic oxidation finish. It also includes a slot load Blu-Ray drive and internal space for two 2.5″ hard drives. It measures 7.5 inches square with a height of only 3 inches. The AMIGA mini's appearance is enhanced with the inclusion of the classic embedded AMIGA logo engraved in the front.

The C64x, highly regarded by Commodore fans for its retro styling, now features Intel's new D2700 dual core 2.13 Ghz CPU and nVidia GeForce GT 520 (512Mb) graphics for enhanced gaming capability over previous models. It also features 4Gb Memory (DDR3 1066), a 1 or 3 GB SATA drive (300 or 600 Gb SSD optional), a mechanical keyboard, a built in multi-card reader, WiFI, Bluetooth, VGA, DVI and HDMI output, 7.1 channel high definition sound, 2 USB 3.0 and 4 USB 2.0 ports for exceptional external data access, a slot loading Blu-ray drive that can also write DVDs and 2 WiFi antennae for outstanding signal reception.

The VIC mini has specifications identical to the C64x Supreme, wrapped in the elegant aluminum enclosure of the AMIGA mini.

The VIC-Slim is an upgraded unit replacing the previous 1.8 Ghz dual core Atom with the new Intel 2.13Ghz Dual Core D2700 processor and includes 2Gb RAM (DDR3 1066MHz), a 1Tb SATA Hard Disk Drive and HDMI output.

Mr. Barry Altman, CEO, states "This is an historic day. The team here has been working around the clock to fulfill the vision of a reunited Commodore and AMIGA branded computer with the launch of our new Commodore AMIGA mini."

Mr. Leo Nigro, CTO, states "We built Commodore USA to take advantage of the rapid rate of technological change in the computer hardware market. The introduction of Intel's new Atom processor for compact devices such as the C64x Supreme, VIC-Slim and VIC mini proves that Commodore USA is setting the pace for the computer industry. The Commodore AMIGA mini with its 16 GB of RAM, powerful i7-2700k 3.5 Ghz Quad-Core processor and built-in nVidia graphics chipset is truly worthy of the AMIGA name. Also, with the inclusion of Commodore OS Vision, our own Linux distribution showcasing our product's advanced hardware features, we can also provide a unique and compelling experience for customers seeking an alternative to Apple and Microsoft products. First and foremost I'm a Commodore and AMIGA fan, and like millions of other fans around the world, I am excited by the return of the famous Commodore and AMIGA brands we grew up with and loved."

Barry Altman adds, "Leo and I and the entire team, started on this journey to prove that we could take these historic computer brands and produce products that are relevant to both the historical consumer base and new customers. These computers are breathtaking in appearance, incredibly powerful and exciting to use."