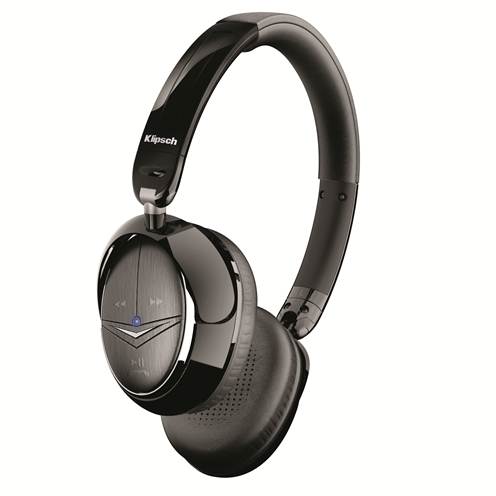 Klipsch has unveiled its revamped Image One on-ear set.  The new Image One is acoustically similar to its predecessor, but now it has a more stylish and robust design that should hold up better over time. The headphones only have a single cable leading into the left earcup, rather than splitting into both cups like the original, and it's also flat to prevent tangling. The earcups can still fold flat, but now they can fold into the headband as well, making a smaller footprint for storage in a stuffed bag.
Comfort-wise, the leather earpads are now totally flat to provide an improved seal and better comfort. Additionally, an Apple-certified inline remote / mic will help you control your music and calls on the go. An airliner converter, a 1/4-inch adapter and soft-shell carrying case are included, and best of all, pricing still remains at $150.
Klipsch is also offering a Bluetooth version of the Image One for $250. Nearly identical, it has subtle differences including the playback and volume controls positioned as buttons on the outside of the right earcup. The Image One Bluetooth also has a built-in rechargeable battery, yet the set only gains 10 grams of weight.  A detachable cable allows for passive functionality.  The aptX and A2DP are both incorporated for high-quality audio streaming.
The new Klipsch Image One and Image One Bluetooth are set to hit shelves by the end of the month.
Check out the full press release below…
Image™ ONE Headphone Series Gains Bluetooth Model and Product
Upgrades

INDIANAPOLIS (August 9th, 2012) – Klipsch, a leading global speaker manufacturer, today
announces the launch of the new Image™ ONE Bluetooth® and upgraded Image™ ONE.
Catering to on-ear enthusiasts, these headphones maintain the same high-quality sound
signature and comfort for which Klipsch headphones are known while introducing
enhancements in build, functionality, design and performance.

With the launch of these two Image ONE series models, Klipsch introduces upgraded, flat
cabling-attached only to the left ear cup-for added durability and tangle resistance, as well as a flat folding collapsible design for space-saving storage.

Image ONE Bluetooth
Combining high-performance Klipsch sound with the convenience of wireless listening, the
Image ONE Bluetooth serves as Klipsch's first wireless headphone model. Given its utilization of Hi-Fi Bluetooth (A2DP) audio quality and aptX Codec for lossless streaming, users experience high-performance, uninterrupted listening. The Image ONE Bluetooth's wireless capabilities are enabled via its built-in rechargeable battery; with wired connection still possible via the included direct connect audio cable. Large, easily-accessible controls are located on the right earcup for controlling playlists and phone calls. Extensive research resulted in the ideal ergonomic placement of buttons so users' hands naturally fall onto the controls. Lined with professional- grade foam and equipped with an adjustable leather headband, it provides premium comfort and superior noise isolation. Available in a black finish with brushed-aluminum accents, and compatible with any Bluetooth-enabled device, the Image ONE Bluetooth retails for $249.99 (U.S. MSRP) and will be available at authorized retailers and http://www.klipsch.com in August 2012.

Image ONE
Maintaining the same acoustics of the current model, the updated Image ONE provides listeners with flat earpads and an adjustable leather headband for optimal comfort and fit, still providing superior levels of noise isolation. Simplifying cable design, the headphone utilizes only one cable that feeds into the left earcup. Because the headphone's earcups fold flat into the headphone, a smaller carrying case is provided for more compact storage. The same three- button remote and mic is housed on the cable for full call and music control with Apple devices.

The new Image ONE retails for $149.99 (U.S. MSRP) and will be available at authorized
retailers and http://www.klipsch.com in August 2012.