New gear and innovative gadgets have hit the world of motorcycles just in time for holiday shopping. Get the best gift for the lady rider on your shopping list this year by following our guide to the latest trends in motorcycle gear and lifestyle — or indulge in some new things for yourself.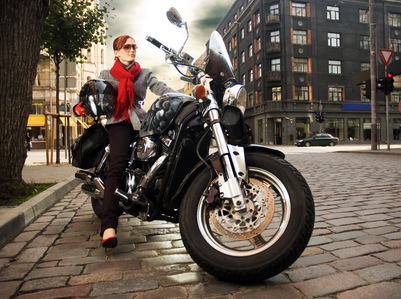 Photo Opp
Go Pro Cameras are perfect for the adventurer in your life. Their cameras and mounts are specifically designed for action sports such as riding, boarding and biking. These are perfect for the traveling rider looking to capture the memories of newly explored places.
Bike Accessories
If you know the motorcyclist on your list needs specific Harley, BMW or Yamaha parts, get them something they need, but only if you know for sure it's the right part for their bike. Craftsman's new Max Axess Sockets are pass-through sockets that replace separate shallow and deep sockets. The 19-piece set works with six-point, 12-point, Torx, square and spline fasteners.
Vibra Stop is a unique thread locker from Tectorius North America made specifically to prevent fasteners becoming loose due to vibration. It work on any surface and can be applied and reinstalled up to five times without reapplication. Muc-Off Motorcycle Chain Doc. is a tool that clips over the bike chain and removes grime and grease with rotating brushes.
Made for cruisers and touring bikes, Saddlemen Pet Voyager is perfect for ladies that can't leave the house without their pooch. This contraption is the VIP treatment of riding for your pet. Equipped with vents, food, water trays and comfortable padding.
Off Road
For the rider who lives and breathes the lifestyle, "101 Road Trails" is a compilation of Clement Salvadori's best "Road Tales" columns from Rider magazine. Another great book dedicated to the motorcycle lifestyle is "Zen and the Art of Motorcycle Maintenance," a 1974 philosophical classic exploring the metaphysics of motorcycle quality by Robert M. Pirsig.
Easy Riding
Apals-Air Lights are thin and reflective patches perfect for emergencies when a driver's vision can be impaired. The LED lights within the patches make them easily seen for long distances and offer 70 hours of light. A strong adhesive makes Air Lights easy to stick anywhere. Airhead Cool Spray is great for riders in the summer. The product is a spritzer that has Menthol as an active ingredient and works as a deodorizer riders can spray on their heads under their helmets. The new Touratech Garmin Montana GPS system is designed specifically for motorcycles. The company has also created a vibration-dampened, locking mount for bikes.
Lock It Up
Lockstrap is a 2-foot-long nylon strap equipped with a cut-resistant steel-cable core. It uses a locking carabiner to keep your belongings secure and safe and is built with toughness and flexibility in mind.
Apparel & Body Gear
The Pink label Collection by Harley Davidson is a pink and black line consisting of a helmet, sunglasses, riding shirt and hoodie with proceeds going to breast cancer research and awareness. Rubber Duckies boot covers are a perfect gift for the winter time when the streets are lined with muddy slush from rain and snow. With ladies loving shoes as much as they do, this is a great way to keep their prized possessions safe while riding.