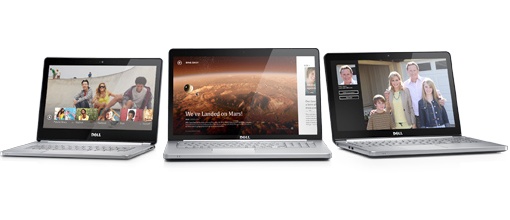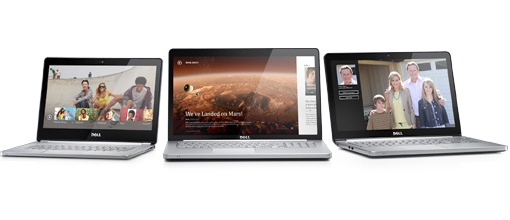 With the latest Fall-2013 lineup, Dell is introducing a simple three tier concept: good (3000 series), better (5000 series) and best (7000 series).
Key Features of Inspirion 7000 Series
All 7000 series comes with Gorilla Glass touchscreen
Resolution starts at 1366 x 768 (boo) but option of full HD 1920 x 1080 is available (yay)
Available in 14-inch, 15-inch, and 17-inch sizes
All powered by Intel's latest 4th Gen Haswell
All aluminum surfaces with backlit keyboards
Starting price is $699

Inspiron 15 7000 = The Mainstream Choice
The new Inspiron 15 7000 series laptops are an exemplary "mainstream" choice mid-range machine. Even though this is the 7000 series, with a starting price of $699, you can't really argue that this is Dell's top-of-the-line offering (we leave that for the Dell XPS series).
What you'll get is a completely new designed laptop that was just released last month (September). All 7000 series come with a 10-point touchscreen, so for the Inspiron 15 model you essentially have TWO options: a Core i5-4200U processor or a faster Core i7-4500U. The Core i5 model comes with 6GB of RAM, where as the Core i7 comes with more RAM at 8GB.
In terms of size, the new 2013 Inspirion 15 7000 series comes in at 5.7 lbs (2.6 kg) and has a thickness of only 0.8-inches (or 20.5mm). While its certainly not the lightest laptop on the market, these are quite thin machines for 15-inchers.
While discrete GPU and higher resolution 1080p panel was promised, thus far you can't order either on Dell's website. Why? Who knows. It doesn't make much sense to us, but the latest coupon on the 15-inch 7000 series can be found below.

Inspirion 17 7000 = Desktop Replacement
The biggest laptop from the new 7000 series is of course the Inspiron 17. Unlike the 15-inch version, you'll have three config options to start off with starting at $849.99, going up to $999.99, and ending at $1,249.99 for the top-end model.
The first two configurations have a few similarities: both have 1600 x 900 LED panel and Intel HD Graphics 4400 integrated GPU. The cheaper $849 model comes with a Core i5 CPU, and the upgraded $999 model comes with a Core i7.
The highest end model comes with the very same Core i7 and also includes a few extras to justify the higher price tag: a full HD 1920 x 1080 resolution display panel along with the speedy GeForce GT 750M with 2GB of GDDR5 RAM – essentially, if you an Inspiron 17 7000 series for gaming purposes, just fork over a little more money and get top of the line.
Having a 17.3-inch screen, the laptop is going to be a lot heftier, weighing in at 7.3 lbs (or 3.29 kg). However, thickness is kept to a minimum, as the laptop is only 1.1-inch thick (27.7mm).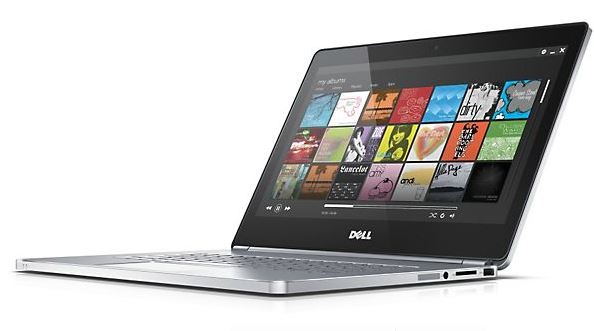 Inspirion 14 7000 = Ultraportable Balance
For those on the go, the smallest of the bunch will be the Inspiron 14 7000 series. It's designed with portability in mind. Weighing at under 5 lbs (4.5 lbs or 2.02 kg), the Inspiron 14 7000 is the lightest one of all. It is also the thinnest of the bunch at only 0.6-inch thick – making it an incredibly thin laptop.
The kicker is the Inspiron 14 has a much higher starting price when compared to the 15 or 17 due to the STANDARD 14-inch Full HD 1920 x 1080 resolution touchscreen display. No need to downgrade or upgrade here as this 14-inch is a solid competitor aimed directly at Apple's MacBook Pro 13.
While I personally wish that the Inspiron 14 7000 series comes with a much lighter frame, in terms of its complete specification setup things are decent enough. Like the 15-inch, you have two choices: a Core i5 with 6GB of RAM or a Core i7 with 8GB of RAM.