Like it or not, the game of golf is all about statistics…scrambling percentages, puts per round, greens in regulation play and fairway hits. It's enough to boggle even the career mathematician. But if you have the latest Game Golf device, the numbers become much easier to manage, and access to those numbers can improve your game dramatically.
Game Golf is a GPS system that tracks all those stats and more, using a device that clips on your belt.  Once doing that, you can keep track of every shot you play. For example, you can find out such things as knowing how far you actually hit each club.
Game Golf is a breeze to setup and use. Before each shot, you simply tag the club you are going to use by placing the handle, with its appropriate red tag in the butt, next to the unit on your belt. A beep and a vibration will let you know that the tag has been logged. Then play your shot as usual, remembering to hold your pose. When you get to your ball, the tagging of the next club you use tells the system how far your first shot went.  You now have your first bit of data, which is a series of data that will be collected throughout your entire round.
Uploading Game Golf Stats
Invaluable Training Tool
Besides being an invaluable training tool, Game Golf can discern certain trends in your play, and you'll be better able to judge which parts of your game need improvement and work. You should then also be able to see your golf stats, and your game, improving in just a few weeks….maybe days.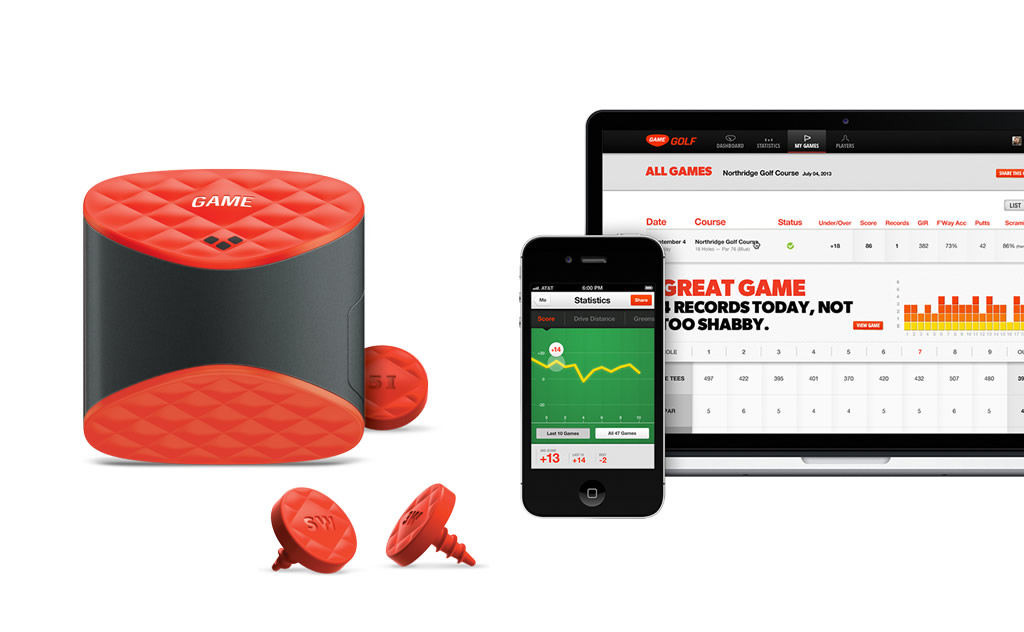 Game Golf is Social
Bottom Line
Game Golf is pretty cool and offers significantly more tracking and analysis of your overall game than anything out on the market. Aside from that, the company has been making frequent improvements to the software and stats in the few months the product has been on the market.

The GPS technology actually works better than we would have suspected, offering enough accuracy to really track balls and swings with true, real life positioning. This is one golf gadget that not only claims it will improve your golf game, itactually will. The Golf game retails for $199.