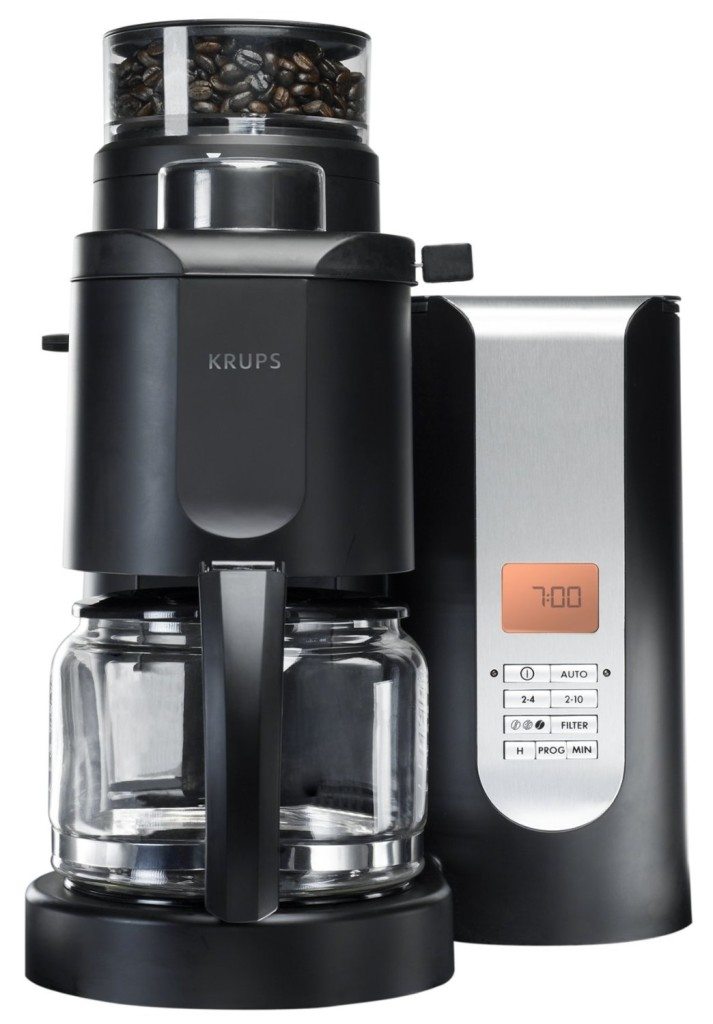 If your $30 Mr. Coffee coffee machine just ain't cuttin' it, and you want to step up to something more professional, like those that restaurants use, check out the Krups KM7000 Pro Grinder and Brewer. This 10 cup coffee maker is designed for the home, but the coffee it brews tastes like it's straight from a barista. And with a built in grinder to grind those gourmet beans and a design that would suit any modern kitchen, the Krups KM7000 is a beast of a machine for any coffee lover, and one that won't break the bank.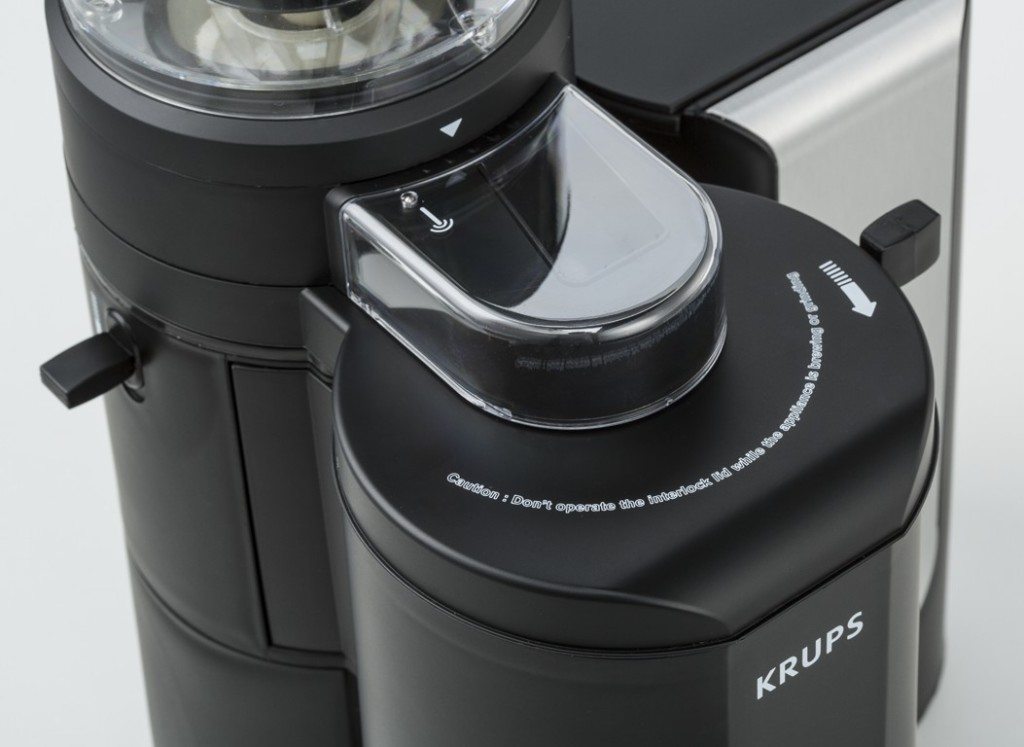 Krups KM7000 Design
Inspired by professionals and designed for coffee connoisseurs, the Krups KM7000 was built with three key attributes in mind: Passion, Precision and Perfection, and embodies the mastery of the key components to the perfect cup of coffee: the grind, the coffee-to-water ratio, the brew temperature and contact time.
It features a conical steel burr grinder, recognized by coffee connoisseurs as the best method of preparing whole beans, as well as 5 grind levels to allow adjustments from fine to coarse. Various grind levels produce varying-bodied brews.
The Krups KM7000 body is constructed of durable plastic, making the entire unit lightweight and easy to move around. Stainless steel accents bode well to it's aesthetic appeal, and the glass pot has a nice shape, which fits snug in the unit.
Function
The KM7000 can make up to ten cups of coffee in just few minutes, and functions automatically thanks to its five programmable grinding levels. The taste and strength of the coffee can also be customized using its three different brew settings — mild, medium and strong — along with the aroma function for more intense extraction. The number of cups selection ensures a complete control on the brewing process.
Control and convenience are paramount with the Krups KM7000 Grind and Brew coffee machine. Programmable, the KRUPS coffee maker can be set to automatically brew. The warming plate then maintains the temperature in the carafe for up to 2 hours after which the machine shuts off automatically for safety and convenience. And for these who are in a hurry, the pause and serve feature allows you to remove the carafe during the brew cycle and pour an early cup.
With the KM7000, you can prepare from 2 to 10-cups of intense coffee every morning for a unique experience each and every time. and you're able to set the total amount of coffee that it will produce, from 2 to 10 cups. It also has a water filtration system, which removes chlorine and other minerals from tap water, for the best and cleanest water. It also has a brew-pause feature.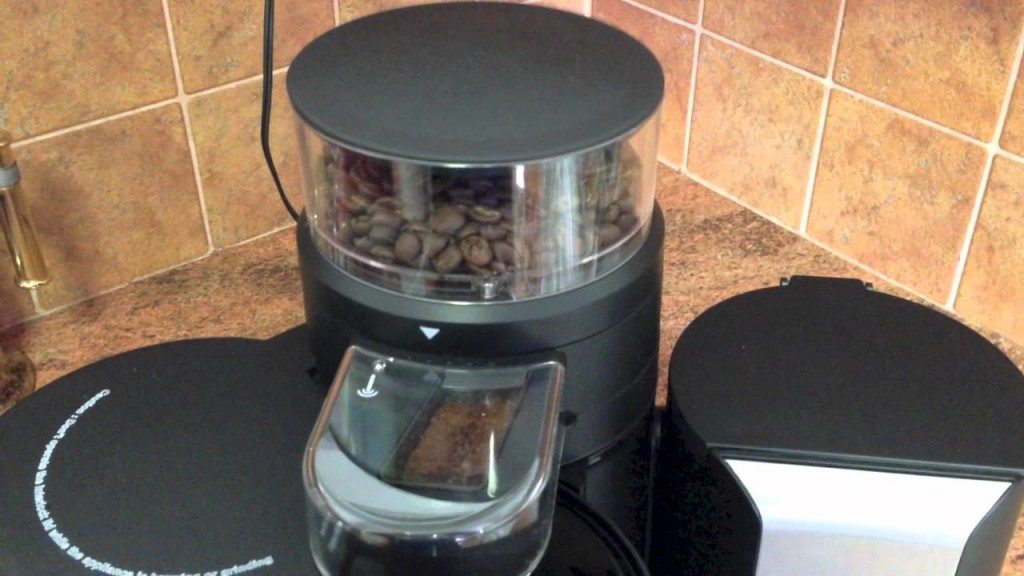 Grinder
The grinder blade is sharp, well made and grinds beans with consistency and power. It also doesn't make too much noise, especially compared to stand-along hand grinders. Beans are ground accurately based on the setting you choose. A "big-bean" setting will produce chopped beans, while a higher setting turns your coffee beans into a uniform fine powder. Either way you like it, we found each time the KM7000 delivered an awesome cup of coffee, thanks to its brewing process, water filtration, and its available customizable settings.
Operation
Simplicity is the name of the game with the Krups KM7000. It's a breeze to use, and setting the available features is completely intuitive. It also has a very easy procedure for setting it up. Ready to use out of the box, a simple assembly is all that's required.
Additionally, when it does need cleaning, which is rare, it comes apart in a way that allows you to clean every nook and cranny, particularly the grinder, which can get messy.
Bottom Line
The Krups KM7000 Grind and Brew Coffee Maker is a world class appliance, fit for a home or a professional setting. It's brew quality performance stands apart from others in it's class, including Capresso and Cuisinart, and its ability to grind and brew without touching the appliance is a real plus. Finally, because of its ability to really tweak the brewing time and strength, it allows all walks of coffee drinkers to really enjoy there favorite coffee strength.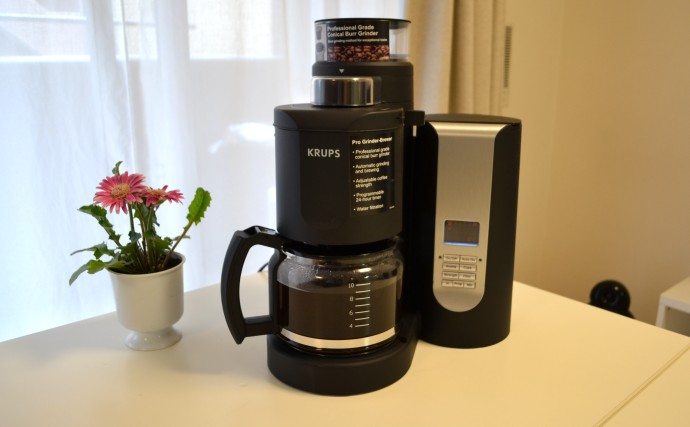 Finally, the Krups KM7000 is a lot more affordable than you think. Ranging in price from around $140 to $200, it's certainly much more affordable than other similarly performing coffee makers. Krups sells it on their site for $179.99.
If you're in the market for a coffee maker upgrade, and you have a true fascination for coffee brewing, check out the KM7000. It does a lot for an affordable price.