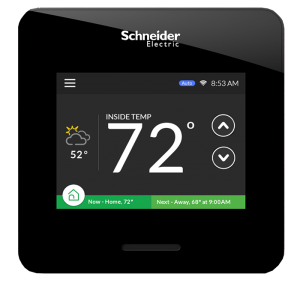 Schneider Electric just released their new connected thermostat dubbed the Wiser Air. It's designed to deliver efficiency and ease-of-use climate control right out of the box.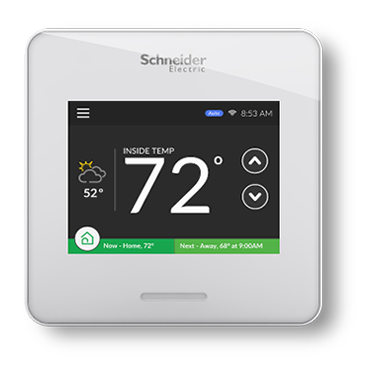 Wiser Air Energy Management
The Wiser Air features a sleek touchscreen design and allows homeowners to control their home's temperature remotely and set personalized schedules. Among the many smart thermostats out on the market today, including Nest, what sets apart Wiser Air is the fact that it's not just one unit. Rather, it has been created to work in conjunction with Schneider's over-arching Energy Management System, a turnkey solution aimed at helping people and utility companies better handle home energy loads.
Through the Wiser demand-response management platform, utilities can provide homeowner engagement services such as home energy audits and make recommendations for efficiency upgrades. The platform also allows utilities to forecast demand-response events and optimize the grid for peak-use to ensure stability. Pretty cutting-edge, right?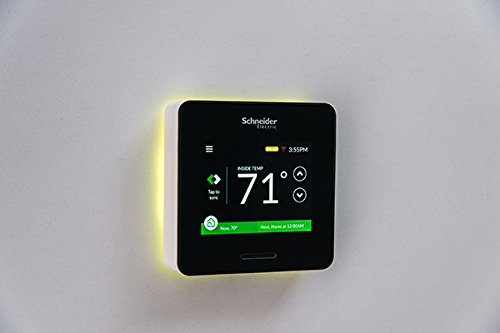 Design and Use
The Wiser Air thermostat is designed to be very easy to use and operate, thanks to a very sleek touch-screen. Several tools are built-in to help homeowners optimize their comfort and efficiency. In addition to auto programming and custom scheduling through Ready Modes and Simple Schedule, Wiser Air has built-in sensors, which monitor when you're at home or away and shifts into active or efficiency mode accordingly. The unit also responds to humidity, light and temperature.
With Wiser Air's engagement platform, you can connect you and your utility company with real-time interaction and two-way messaging. Homeowners have the ability to opt in or out of demand-response events and can view verified energy usage information, including how their home compares to others in the neighborhood.

The Comfort Boost Feature
The Comfort Boost feature allows you to make a quick temperature adjustment without altering thermostat settings, and the system also uses Schneider Electric's Weather Solutions service to provide forecasts and alerts to optimize settings for the current weather conditions and forecasts. By holding the up or down arrows, you can start a 15 minute boost of cool or warm air, which is especially useful for warmer days.

Installation and App
Inside of the box you'll find the Wiser Air unit, an installation guide, wire extenders, a trim plate, a back plate and some hardware.  A Wiser tutorial video is also available on their website. This was very helpful, but in the end, you're only talking about attaching a couple of wires and snapping on the face plate. It's a breeze.
Once the front panel is secure, the display light up and will lead you through a basic setup screen where you put in some information like, date, time and wiring configuration. After, you connect it to your home Wi-Fi network, you're off and running.
The Wiser Air app brings home the magic with this kit. After you download it, you connect it to your unit using a QR code or typing in a code that is displayed on the thermostat. It connected quickly, and now you can control the Wiser Air thermostat from your phone or a variety of other devices.
Here's the best part. As part of the Wiser program, Schneider Electric provides installation, deployment, and maintenance support, as well as marketing assistance with utility-specific branding. Along with Wiser Air, the product line includes smart plugs and load-control switches as well.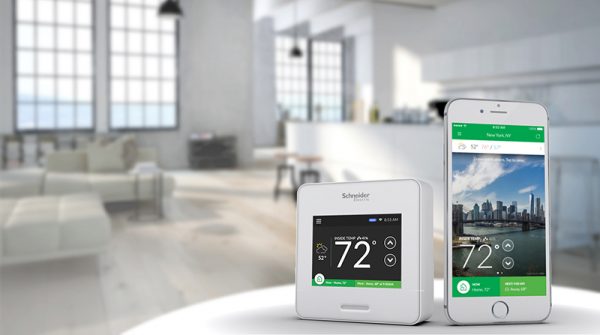 Features and Testing
During our brief test, we were able to adjust the temperature settings, both when home and away, from the app. Pretty nifty. The Wiser Air unit also has a mode called Eco IQ, which learns your habits and adjust the thermostat accordingly. To set this mode up, you simply tell the unit what your preferences are on a scale: Saving money over comfort or comfort over saving money. You can choose anything in between as well.
As mentioned, this is a very slick-looking thermostat. When no one is around, the display will turn itself off, but if you walk near it, a sensor will turn the unit on and show you what it's doing by changing colors around the base. For example, blue means cooling; yellow means heating; green means it's in it's EQ IQ mode.
The main display makes very efficient use of its screen real estate, but gives you a lot of pertinent information including outdoor temperature, indoor temperature and humidity. The outdoor temperature is pulled from data via your home network.

Bottom Line
The verdict? Wiser Air is a supreme winner. It's easy to use, it has a killer display, and the app makes it all worth while, thanks to the ability to control your home's environment from your phone.  Additionally, the pre-sets, the customization, the various modes and the added features allow you to program and control the device in what ever manner you choose.
The price isn't bad either, running around $225, depending on where you purchase it. So if you're looking for a smart thermostat that really has it all and has thought of everything, look no further than the Wiser Air.
For more information, visit the company website here.