The Apple iPhone X, the 10th anniversary addition, is finally here, and Apple made it official at the Steve Jobs Theater on the company's campus.
Apple CEO Tim Cook called the new iPhone X "the biggest leap forward since the original iPhone," and we can't argue. For starters, the phone's screen takes up all of the front panel, I mean all of it. The screen itself is an OLED Super Retina Display, which measures 5.8-inches, and has a resolution of 2,436 x 1,125 pixels. Brightness and color accuracy are stellar, and it also features Dolby Vision and HDR10 for killer high-contrast video playback. Finally, it also has TrueTone dynamic white-balance adjustment.
The body is made from surgical-grade stainless steel, with glass on the rear panel. It's also water and dust resistant, and available in silver and space gray. The iPhone X is without a physical home button on the front. Instead, it's a swipe up, a raise-to-wake gesture, or a tap on the screen to wake up the iPhone X. These work across the operating system. Siri is still activated by voice or by using a multifunction side button, and a double tap on the side sleep/wake key activates Apple Pay.
Apple X Camera and more
The iPhone X has a dual-lens 12-megapixel rear camera with dual optical image stabilization, a wide-angle f/1.8 aperture lens and a telephoto f/2.4 aperture lens. The 7-megapixel front camera supports Portrait mode and has exposure control and auto image stabilization. Apple's new image signal processor provides advanced pixel processing and a new color filter, and both cameras use the new Natural Lighting effect and ARKit augmented reality feature, which is also on the iPhone 8. Lastly, video has also been improved with 4K resolution movies at 60fps and slow-motion video at 240fps.
The iPhone X also has the iPhone 8's A11 Bionic chip, a 64-bit super efficient processor with a new Apple-designed graphics unit, boasting 30% more speed. Couple that with the six cores and 3GB of RAM, and we're talking about 25% more overall speed and 70% boost from the cores.
The iPhone X 2,716Ah battery life is also increased by two hours on a single charge compared to the 7 line. Wireless charging is also supported via Qi-compatible accessories, and Apple will introduce a proprietary charging solution called AirPower early next year.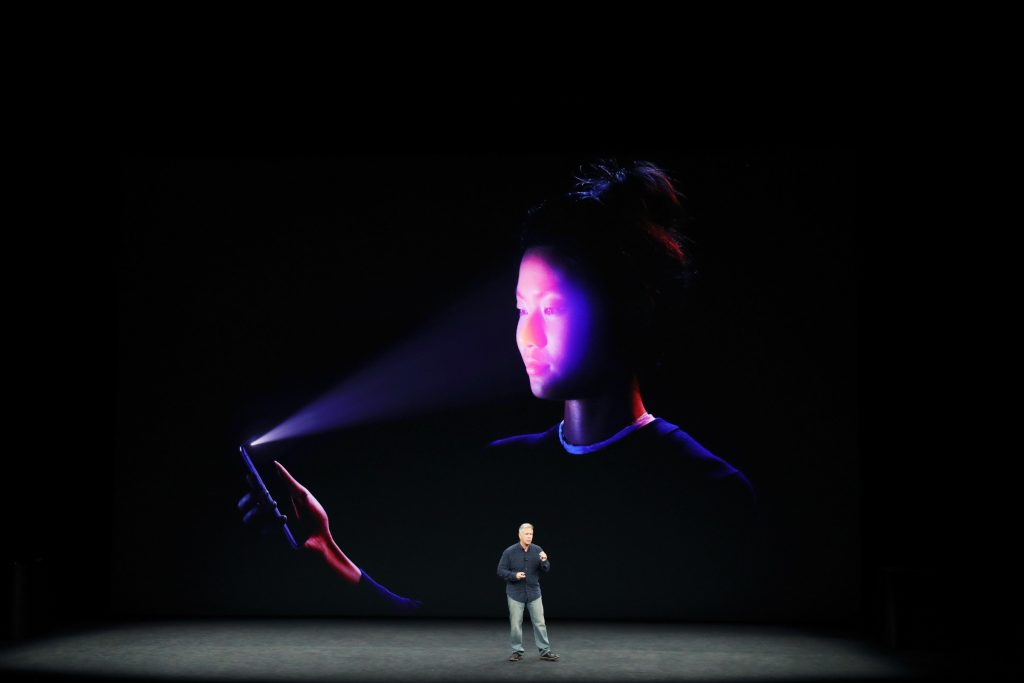 iPhone X Face ID
Apple has a new facial recognition technology on the Apple X called Face ID, which works using the TrueDepth camera system hidden in the notch at the top of the display. Look at the iPhone X and it illuminates your face with an infrared dot array, even in the dark, allowing the infrared camera to identify it. Using the iPhone X's six-core A11 Bionic processor paired with 3GB of RAM, a neural engine processes the image in real time, mapping the contours and shape of your face.
With Face ID, the camera doesn't confuse beards, hats, sunglasses or hairstyles, and face data is stored in the secure enclave inside the A11 Bionic chip. It's completely secure as well. Apple says the chances of it being duplicated or hacked are one in a million, and it also works with Apple Pay. Simply look at the phone when you go to pay, and it works with existing apps that use Touch ID for authentication. Additional Apple software offers you more protection against people stealing your phone. For example, if you don't stare at the phone itself, it won't unlock. And if you grip the buttons on both edges of the phone, the device will temporarily disable facial recognition.
Price, Availability and Warranty
The iPhone X is coming in at $1,000, and is now available for pre-order in either 64GB or 256GB configurations, with deliveries starting November 3. Apple recently announced the iPhone X will be available for walk-in customers on November 3 as well. Carriers like Sprint are cutting customers a discount, and new and existing customers on the carrier's Sprint Flex plan will be able to get a 64GB iPhone for $22.22 per month for 18 months ($400) with an eligible trade-in.
Repair and warranty info goes like this: In the U.S., Apple will charge you a flat rate of $280 for iPhone X screen repairs and $550 for any other damages. If it's a manufacturing defect, then it's covered by Apple's standard one-year warranty. However, these prices are only applicable to those who don't purchase AppleCare+ for the iPhone X. AppleCare+ is optional, but it extends an iPhone's coverage to two years based on the original purchase date of the device. If you decide to purchase the extended warranty plan, then screen repairs will only cost you $30 and any other damages will be $100. There are also other iPhone X repair options out there on the market.
To comment on this article and other GadgetGram content, visit our Facebook page, or our Twitter and Instagram feeds.