Deebot Ozmo 930 Design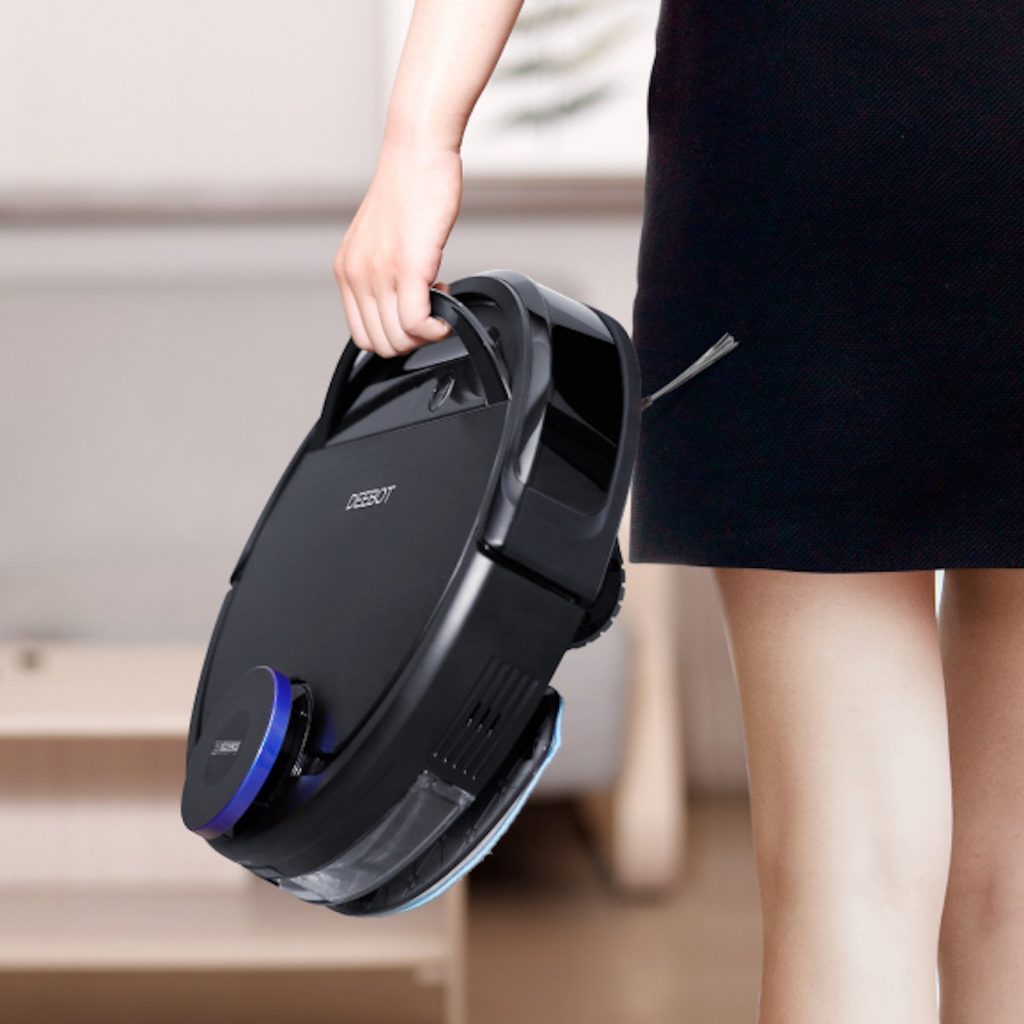 The 930 also has a 0.47 liter dust bin, which is easy to open and remove for emptying, and also easy to replace from time-to-time. Underneath, the Deebot has a unique main brush configuration. Instead of it stretched across the front, it's smaller and resides toward the middle of the robot.
The brush is also removable and can be replaced with a direct suction tool when the vacuum needs to clean hard surfaces. This is fairly easy to swap out. Towards the front sits a removable water reservoir where you can flip it over and clip back into place with ease.
Performance and Features
The Ecovacs Deebot Osmo 930 is really a leap forward in robotic cleaners. As mentioned, it mops and vacuums, and does a pretty darn good job at both. Despite it's size, the 930 actually does well getting in corners, and cleans well in open areas as well. And when it's done with its cleaning cycle, it finds its charging base, and charges up for next time. To engage the 930 to clean, you simply have to push the auto button at the top, or use the app to do the same.
When you unbox the Ecovacs Deebot Osmo 930 and run it for the first time, it runs through each room, making a surprisingly accurate map of your home. The key to a good map is allowing the 930 to access everything during its first run, and while it will stumble and bump around during its inaugural sweeping, once it learns where everything is, it stays away from problem areas for the next cleaning.
The second time around, the Osmo 930 is pretty precise, even cleaning under coffee tables and chairs. Battery life lasts for around a solid hour of cleaning before it needs to get home and juice up.
With the mopping feature, the 930 Ozmo comes with two microfiber cloths that attach to its bottom. When you attach the cloth, the vacuum automatically knows it's time to mop. It will spray water and then subsequently run over it with the cloth. The 930 holds a lot of water, so if you have a fair amount of hard floors to clean, the Osmo 930 can get the job done.
While the mop feature is a nice added feature to have, it's more appropriate for maintenance mopping versus deep clean mopping, but it does do a great job with picking up surface messes. As mentioned, the Osmo 930 can detect floor types, so it won't mop your carpet or rug. And as always, you can use the app to designate what rooms to clean and what rooms not to.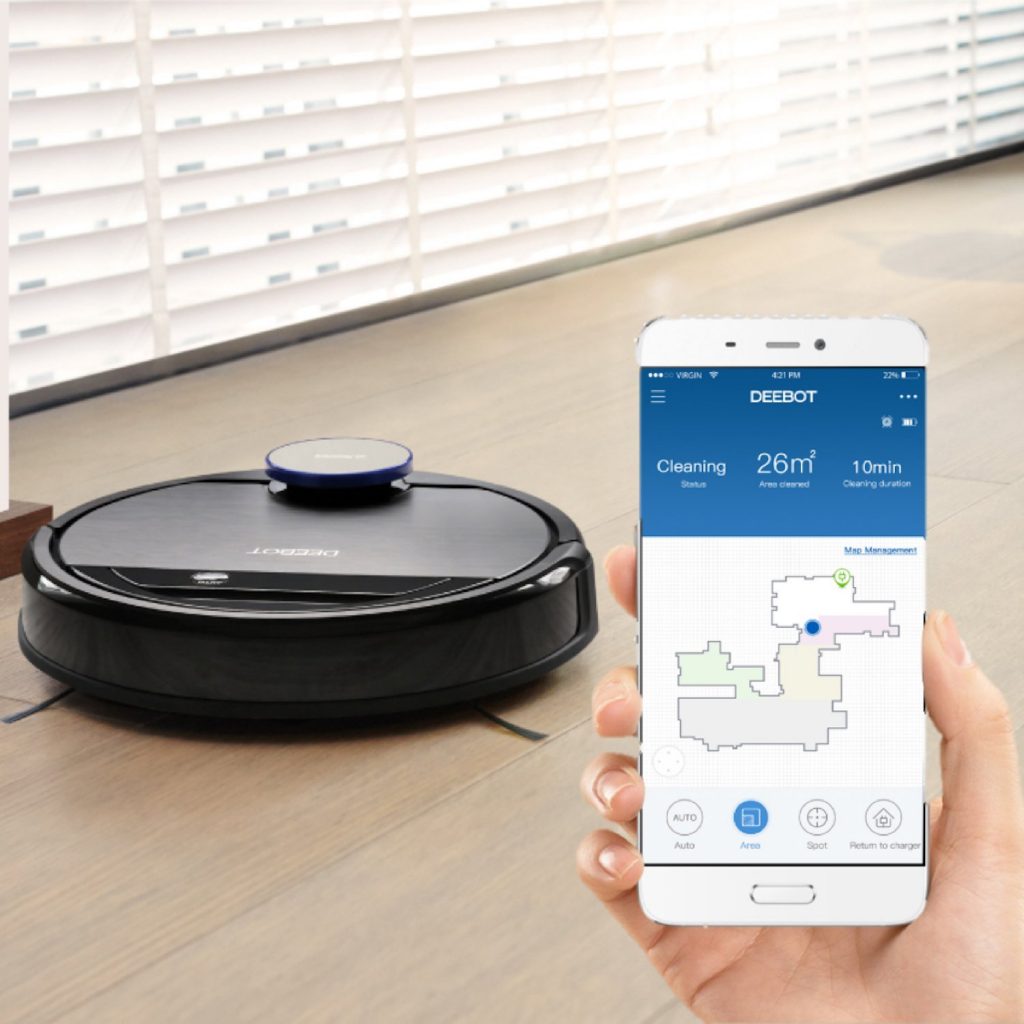 The app is very useful. Available for Android and iOS and using your home Wi-Fi network, you'll see the Deebot's map of your house on the app, with the rooms color-coded. If you want to keep the 930 out of a room, you can select all the other rooms and send it on its way. If you just want to mop the mud room, for example, you can select a single section or use the custom feature to draw a rectangle around the problem area for the Osmo to attack….very easy.
Also with the app, you can set daily cleaning schedules, adjust the amount of water used for mopping, turn on and off the 930's voice alert, and set up continuous cleaning until the vacuum runs out of battery. The voice feature sets it apart from other robotic vacuums. It will communicate regularly with you, telling you what's it's doing or what it's about to do, and it's compatible with Google Assistant and Amazon Alexa, allowing you to give commands using those 3rd-party devices.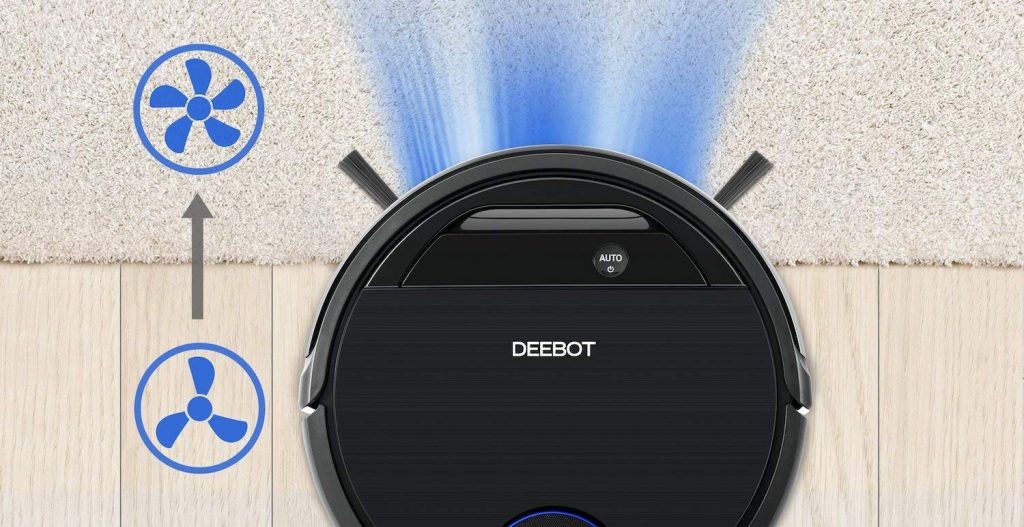 Bottom Line
The Ecovacs Deebot Ozmo 930 runs around $540 and is available  on Amazon and at several retailers including Home Depot. With it, you get a dual-duty robot that effectively maintains all of your floor, and works flawlessly with its associated app. It's cleaning ability is way above par, and its room selection and cleaning schedule features really allow you to customize this device. It's one of the more versatile robot vacuums around. It comes with a 1-year limited warranty. You can learn more here.