Casio continues to refine its Pro Trek smartwatch, unveiling its third version: The Pro Trek WSD-F30. This latest addition has a slightly smaller case, a more versatile display, and the company has added a convenient new feature to its extended battery mode.
When the Pro Trek WSD-F30 was first unveiled in August, there was no information on pricing and availability. Three months later, the company announced the smartwatch will be on sale starting January 18. But in terms of pricing, it's still unclear how much it's going to cost.
The Pro Trek was one of the first Wear OS smartwatches to extend the battery life of the device by turning off the operating system, so it could function simply as a watch. Known as Timepiece Mode on previous Pro Trek smartwatches, the WSD-F30 introduces Multi Timepiece Mode, which adds complication-style features to the monochrome-only time display. For example, it will show altitude and atmospheric pressure alongside the time, on a power-sipping monochrome display, to help hikers. With Multi Timepiece Mode active, the battery life stretches out to a month.
This isn't the only interesting battery-saving feature. A new Extend Mode fits somewhere in-between Multi Timepiece Mode and the full Wear OS experience, showing the time, altitude, and atmospheric data, plus a color map can be called up with a button tap. The map shows on the F30's main OLED screen, which also shows Google's Wear OS operating system, however for Extend Mode Wear OS is put to sleep to conserve energy, resulting in three days battery use while still viewing offline maps. Cleverly, Extend Mode can be scheduled based on your plans for trips away.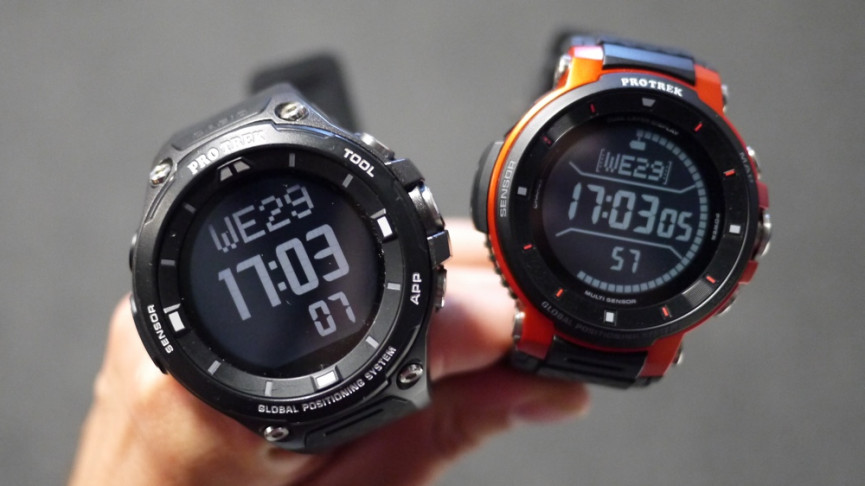 Casio has also partnered with Bikemap, an app specifically for cycling maps. Those who own a Pro Trek can use the Bikemap app to download maps and routes ahead of time, which you can then access straight from your wrist while offline and untethered from a smartphone. The app syncs with the WSD-F30 automatically and saves records of your cycling activity, along with information like routes, speeds, time, and distance.
How much smaller is the F30 compared to the Pro Trek F20 and F10? This is still a Pro Trek watch, so it's never going to be small and subtle, but Casio has still shaved 3.9mm off the width and 0.4mm off the thickness. This means the Pro Trek F30 still measures 60mm wide, 53mm tall, and 14.9mm thick. Small it's not, but it is potentially more manageable than before. The case is made from resin with a special metal-like coating, and the strap has been revised too, adding more holes for an improved fit. The whole thing meets MIL-STD-810G standards for toughness.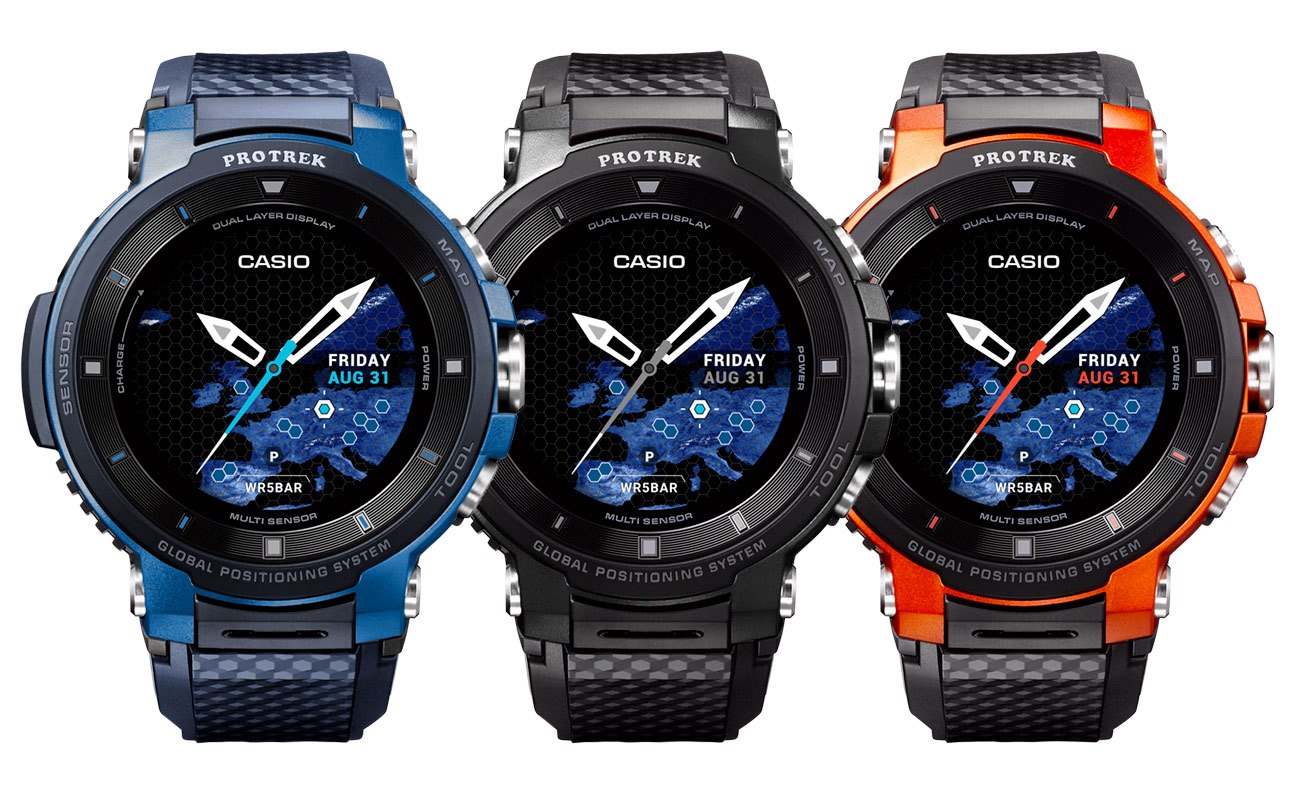 The dual-layer color OLED, which has a 390 × 390-pixel resolution, and monochrome LCD display measures 1.2-inches. The F30 has GPS, and enough storage for five different offline versions, along with sensors for air pressure and altitude, a compass, an accelerometer, a gyroscope, and a magnetometer. The battery doesn't have fast charging like we've seen on some new Wear OS smartwatches this year, so it will take around three hours to charge and should return around a day-and-a-half of use, according to Casio.
Casio has several app partnerships suited to those with active lifestyles, and will also introduce a new watch face called Frontier on the WSD-F30. These apps include ViewRanger for mapping, Hole19 that maps 42,000 golf course around the world, the surfing app Glassy, fishing forecast app Fishbrain, MySwimPro for personalized swim training and analytics, equestrian app Equilab, Exercise Timer, Ski Tracks, and fun fitness game Zombies, Run!.
Several will add custom features to the WSD-F30. Glassy adds voice commands and custom feature options for the hardware buttons, ideal for when surfers have wet hands. Fishbrain will add voice commands to see nearby waters and the fish that swim there. Zombies, Run! will allow control of the app on the watch, and Ski Tracks will also operate independently on the Pro Trek WSD-F30.