Packed with innovative technologies and powerful features, MINIX NEO X8-H Plus Quad-Core Media Hub for is destined to bring you ultimate visual feast and enjoyment. Powered by Amlogic's latest 4K chip set, Amlogic S812-H, NEO X8-H Plus TV player delivers new levels of performance and connectivity.
The NEO X8-H PLUS offers 4K2K UHD video playback, delivering an even clearer and better looking image when watching your media content on larger screens. The 4K2K UHD video playback feature means smoother edges and depth, producing a more detailed picture and a superior viewing experience for MINIX users.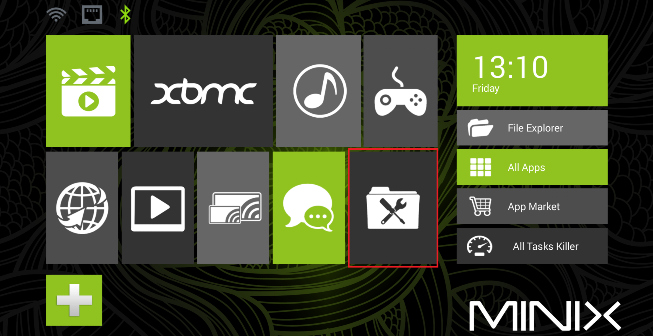 The NEO X8-H PLUS comes equipped with a Quad-Core ARM Cortex-A9r4 processor, that delivers the exceptional levels of performance and power efficiency. It is the first 4K Media Hub for Android designed to be plugged in and left on stand-by mode when not in use. There is no need to power-off the NEO X8-H PLUS, with the Quad-Core ARM CPU's exceptional built-in thermal control management system protecting against any heat issues, giving customers peace of mind they can leave their device on 24/7/365.
The NEO X8-H PLUS comes pre-installed with Android 4.4 KitKat, offering an array of upgrades and features not available on previous Android OS versions. The NEO X8-H PLUS takes full advantage of the improved memory management of Android™ 4.4, with smoother multi-tasking as users switch between applications with ease.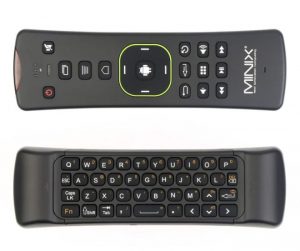 NEO A2 Lite is the ideal remote for navigating through your media with ease, providing precise cursor control without the need for a hard surface to operate on. NEO A2 Lite delivers a seamless user experience when partnered with NEO X8-H Plus.
Deliver faster connectivity with dual-band Wi-Fi 802.11ac technology and 16GB eMMC to bring secure data storage. The NEO X8-H PLUS utilizes eMMC "embedded Multi-Media Controller" memory. The utilization of eMMC memory offers an array of benefits in terms of performance, security and reliability, ultimately delivering a richer end-user experience. You can be rest assured that your media content is safely stored on the NEO X8-H PLUS, with its built-in power management system and flash memory controller. An absolutely wise choice to offer an outstanding user experience!