Any motorcycle enthusiast is going to tell you that owning and riding one somewhat regularly is a risk. In an effort to bring more riders home safely, motorcycle manufacturers have made their machines significantly better at handling hazards than they were 20 years ago. But few manufacturers have been so bold as to throw another wheel on the front of one of their bikes, until now. Meet the 3-wheeled Yamaha Niken GT.
Design
The Niken GT is classified as a "sport tourer." This means plenty of power and ability to handle corners at higher speeds. The Niken GT carries over a lot of similarities from Yamaha's Tracer 900 GT, but what obviously sets the Niken GT apart from other sport tourers is Yamaha's Leaning Multi-Wheel system (LMW).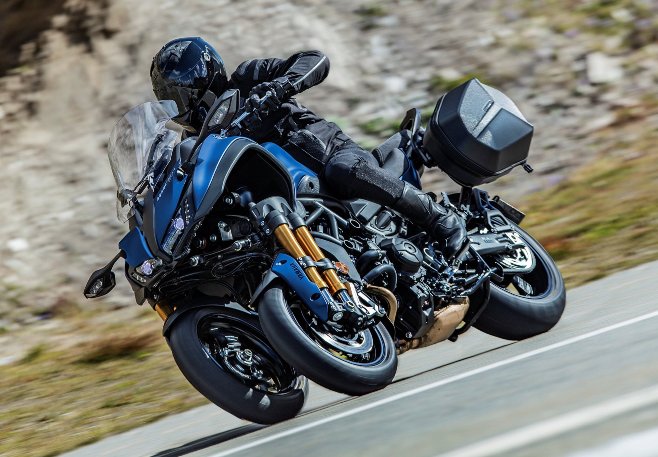 The LMW is essentially two sets of forks that are mated to Yamaha's parallelogram linkage. The parallelogram linkage is made up of two parallelogram arms and a steering tie rod that connects the steering heads coming off the forks.
The parallelogram linkage then gets connected back to frame, while the steering tie rod gets connected back to the head tube that allows the rider to steer the wheels. The ability to let the steering (through the tie rods) and leaning (through the parallelogram arms) work independently but also in conjunction is where the magic happens.
Thanks to a principle known as Ackermann geometry, the LMW makes it possible for the front wheels of the bike to track two different radiuses. In the simplest possible terms, it's this mechanical concept that allows a 3-wheeled bike to lean and turn just like a traditional two-wheeler does,with the added benefit of additional traction, handing you a seamless transition from 2 to 3 wheels
The downfall of all of that wonderful leaning wizardry is that, unlike the other three-wheelers on the market, the Niken GT doesn't stand up on its own. It's truly like a motorcycle in that if you push it, it'll fall over. So it's best to not think of the Niken GT as a trike, and instead think of it as an evolutionary jump in what a standard motorcycle can be.
Features

The Niken GT has a center stand, a taller windscreen and a thicker seat compared to the standard Niken. It also has heated grips and two 12 volt 1 amp outlets for electronics.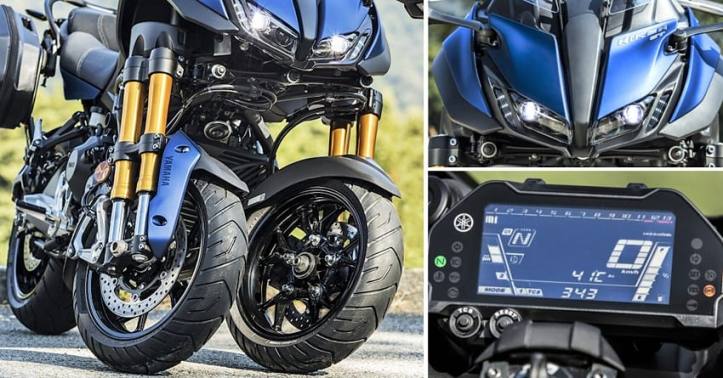 The dash provides all the necessary information, including access to three ride modes that temper throttle response as well as three traction control levels, with the ability to turn TC off. On the grips are selectors for setting cruise control. Not as easily identifiable are the quick shifter, slipper clutch and ABS, all standard. Then there's the motor, Yamaha's nice 847cc inline three-cylinder that's been tuned specifically for the Niken. All in all, the Niken GT is certainly well-equipped.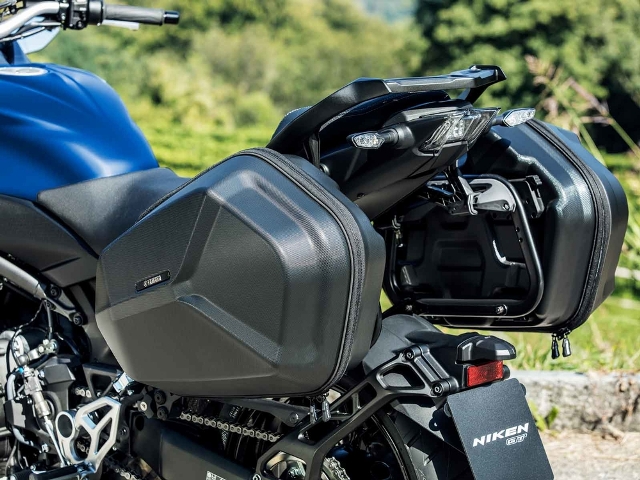 The Niken GT is a big bike and rides like a big bike, so beginners need to be cautious. That said, if you've spent even a modest amount of time on a motorcycle, the additional traction and extremely composed ride will have you very pleased if road hazards are a daily occurrence.
If you're a commuter, especially in wet weather, and the Niken GT saves you from going down even once, it's well worth the $17,299 price tag.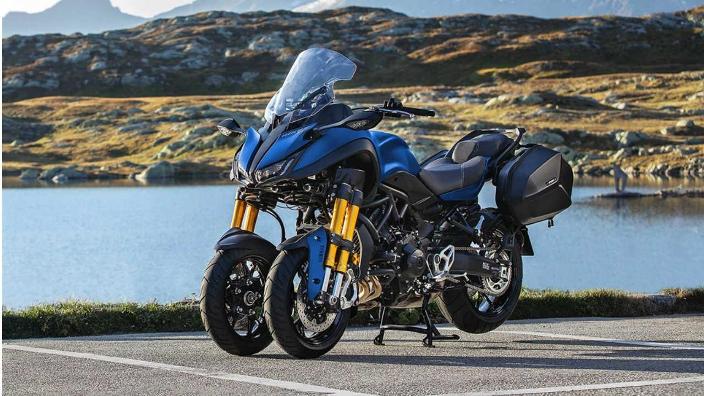 Yamaha has taken a huge step in creating something that helps motorcyclists deal with the biggest issue both new and experienced riders face…not crashing. Regardless of aesthetics or price, the Niken GT's safety features and performance makes the Niken GT an easy purchase.