External GPUs seem to be gaining traction in the marketplace due to their easy plug-and-play with a single cord. You can literally transform your laptop into a top-tier gaming rig.
Razer has made these enclosures for years now, but its newest entry blends the best of its previous attempts into one sleek package. The Core X Chroma has the larger size and wattage capability of the X model, but reintroduces RGB lighting and USB ports. Taking the place of the Core V2, this new external GPU is the best of the line
The Razer Core X Chroma looks identical to the previous Core X. Its black, machined aluminum and sturdy panels are designed with a fit and finish befitting Razer laptops. It's the same size, as well. About a foot long and a half a foot tall, it's not unlike a small desktop tower sitting flat on your desk. Last year's Core V2 was considerably smaller, but the Core X has a slightly larger 400-watt power supply, opposite the stock 120mm fan. The tray still easily slides out using the handle on the back. From there you have easy access to the PCIe slot.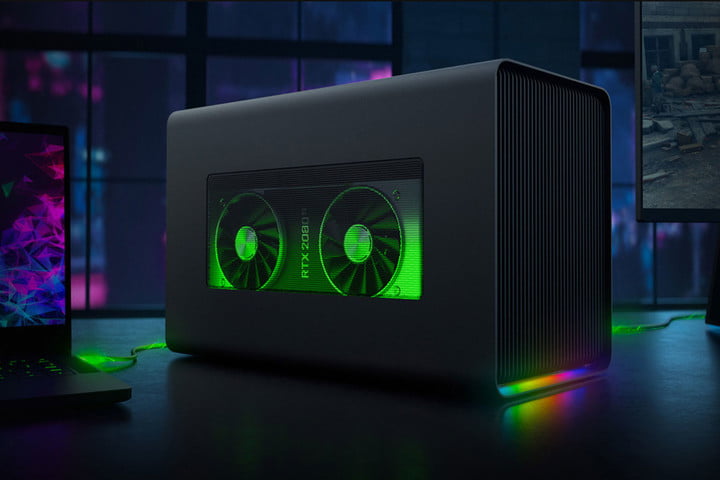 A Razer product without RGB just never felt quite right, but that's been rectified. You'll find Chroma lights, meaning they can be customized and programmed with Razer's Synapse software. It's the same lighting in the Razer Core V2
RGB lights might be the headline feature, but the more important update to the Core X Chroma is the extra USB ports on the back. Along the Thunderbolt 3 port used for connecting to your system, there are now two USB-A 3.2 ports, as well as HDMI and an additional USB-C. This matches what you get on the Core V2 and is a big step up over the original Core X, which only has a USB-C port.
These ports turn the Core X into a USB hub. You can have your monitor, mouse, keyboard, and external SSD all plugged into the Core X. You're just one Thunderbolt 3 port away from accessing all these peripherals. It makes for a clean desk setup, and connecting is wonderfully simple.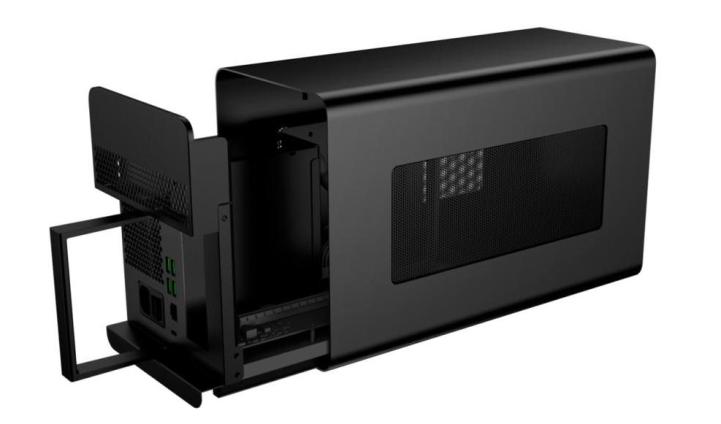 The Razer Core X, while external, still performs nearly as well as an internal setup. Stability has improved as well. Plug-and-play was one of the big innovations of Thunderbolt 3 and the first crop of external GPUs. Since then, it's only improved.
You'll pay $400 for the Razer Core X Chroma, while the standard Core X is $300. That's more expensive than a lot of options, especially those that include a graphics card inside. But you do get a rig that PC gamers have long wanted, as well as a do-it-all solution that combines excellent portability with desktop-like power. The Core X Chroma, and its siblings, finally deliver that, especially if you ever already got a Thunderbolt 3-powered laptop.