The Polaroid Originals OneStep 2, designed after a 1970s camera, and looking and shooting like a vintage camera, spits out instant film with a classic border, giving it's user that retro feeling, and creating an organic, imperfect look. And while the OneStep 2 can be either enjoyable, it could also be frustrating since it lacks the convenience and quality of today's point-and-shoots.
The film slides into the base of the camera and has directions for loading it written on the cartridge, making it easy to load.
It's equipped with eight mini lights that indicate how many images are left in the film pack. There's a shutter release at the front towards the bottom, remaining true to the original.
Some new additions are a built-in flash, and a switch below the viewfinder to brighten or darken the image.
It also has a self-timer button on the front for triggering an instant film selfie, and a USB port on the back of the camera, which is used to charge the battery. Polaroid says the OneStep 2 will hold a charge for up to 60 days.
The viewfinder isn't completely accurate, particularly when close to the subject. It feels like looking through a bubble – the center of the image bends towards you as if magnified, while the edges become blurred. Images take about 10 to 15 minutes to fully develop and the film should be kept facing down to avoid over-exposure, or left sitting underneath the black protective piece. It can be frustrating to wait 15 minutes, only to realize that an image came out too light or too dark.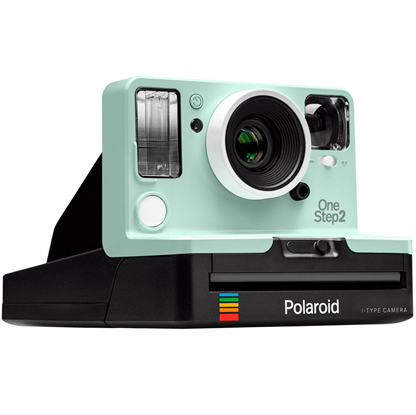 There's a stamp at the bottom, instructing you to stay at least 2 feet away from your subject. The flash shouldn't be used indoors, as it can be too bright. Having said that, the camera is simple enough, even for children. In fact, instant film can be an exciting way for kids to learn about photography.
The OneStep 2 provides easy use, but every picture will cost you a bit. With eight exposures in a pack, you'll become a dedicated but cautious photographer, as extra snaps turn into wasted cash, becoming a concern. It sells for around $100, and a bit more for the special edition. A three-pack basic film with a white frame retails for $45, while the black-and-white film or special editions (like the Stranger Things Edition) can go for a bit more.
You end up around $1.87 per photograph. By comparison, the Fujifilm Instax mini only costs around 80 cents a shot, or 58 cents a shot if using a larger pack of 60 exposures.
The OneStep 2 is a great stab of the instant camera resurgence, providing an awesome feeling of nostalgia. Keep in mind the cost per-photo is extremely high. You might find yourself only using it on special occasions.