Smart rings have been in development for years. But only recently have a few brands finally emerged, ones that look good, feel good and pack useful tech into such a tiny gadget. In essence, a smart ring is a ring that's got some tech built into it, including NFC chips, sensors, like an optical heart rate monitor or accelerometer, as well as the ability to make and receive phone calls and text messages. A great example of this is the ORII voice powered smart ring, The Voice Powered Ring.
ORII is a smart ring that allows you to quickly send and receive audio messages or calls. By gently pressing on your tragus (a prominence on the inner side of the external ear) with the finger that's wearing the ring, you'll be able to hear the audio. ORII achieves this audio transmission to you by using bone conduction technology, which has been used in many medical-grade devices. The ring is designed to send vibrations through your finger directly into your ear, so only you can hear. This allows you to hear and talk through just your finger, and the ring is perfectly private and discreet while packing great sound quality.
The device was first launched on Indiegogo and Kickstarter, raising $333,617 on the latter one, reaching over 2,000 backers. The idea of being able to use your smartphone without having the need to pull it out of your pocket is an appealing one, of course.
ORII is equipped with a dual noise-canceling microphone, allowing its user to hear and talk, even when in loud places. The ring features powerful voice artificial intelligent and is compatible with both Google Assistant and Siri. This allows the user to access a ton of different features by using the virtual assistants; things like calls, text messages, checking the weather, setting up alarms, checking the calendar, asking for map routes, setting up reminders, requesting language translation… you name it. If there's a virtual voice assistant involved, accessibility is just the beginning.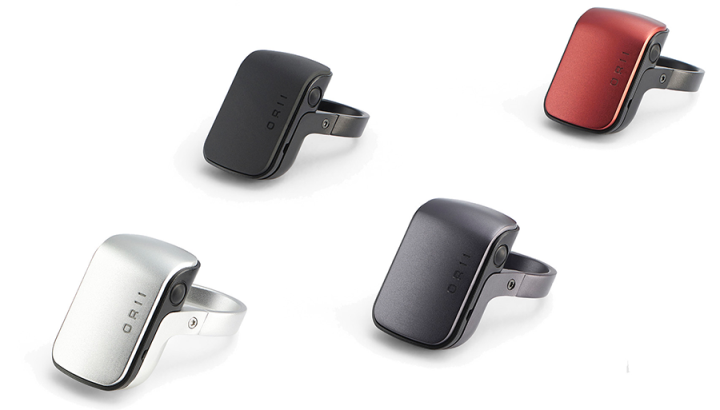 ORII is currently available in four different stylish colors: Dark Night (black), Stardust Silver, Space Grey, and Armor Red. ORII is also splash-proof, featuring some water resistance. There's also the ORII App, that allows its user to fully customize the ring's notifications. The ring is equipped with 4 LED lights and you're able to choose from a range of different colors that you can associate to different notifications, helping you distinguish between them.
The device will vibrate when you receive a notification, so you won't miss it even if you have your phone inside a bag or set on silent mode. Whether you are left or right-handed, the app lets you choose which microphone (left or right side) you want the ring to use. The ring has a 50mAh Lithium Polymer battery that allows for one hour of continuous listening or 45 hours of standby time.
Inside the box, you'll find the ring itself on the right-hand side. On the left-hand side, you'll have a carrying case, featuring two little power connectors inside it that are used to charge the ring. The carrying case has a Micro USB port that's located around the lower border of the carrying case. The box also comes with a few other things, which include a quick start guide, as well as a bunch of ring tips that will help you determine the appropriate ring attachment for the size of your finger; a snug fit will avoid any sound leakage. A small screwdriver is also included, so everything can be easily assembled on the spot, as well as the Micro USB cable that connects to the ring's carrying case.
ORII is great for those who often get voice messages or quick calls on-the-go, like business workers. It's practical for someone who needs to be available at all times but doesn't want to constantly be wearing an earphone or headset. Regarding the accessibility it offers, as well as the good audio quality it features, the ring has great potential in the world of wearables. ORII is priced at $199 and includes free shipping within the US, Europe & Hong Kong. You can get it here.