Each passing day technology is found constantly growing and improving, with researchers envisioning new goals to reach. The desire of adding digital smart features to pretty much every product out there has become a reality over the last few years. And for almost a year now, technology has seen a new developer become part of the fishing game. If recreational fishing is a part of your life, there's a cool product out there that you might have not heard of just yet. It's called the Eco-Popper, and it's designed to drastically up your fishing game.
In late 2018, Eco-Net released their Eco-Popper digital smart fishing popper (lure/bait), an underwater video camera designed for top-water fishing. The Eco-Popper combines an HD camera and wireless technology, and by connecting it to your iOS or Android device over a local Wi-Fi network, you'll be able to stream live HD video of the underwater action to your smartphone, as well as read and store valuable sensor data on its dedicated automatic fishing logging app. No internet connection is required.
The Eco-Popper packs a ton of different features and specifications for such a small gadget. It floats on top of the water (just like a regular fishing popper) and by using its unique on-board HD (720p) 135×90 degrees wide-angle camera, it can stream live video looking down to 10-12 ft. The camera is an ultra-high sensitivity camera for low light conditions, allowing you to visualize high quality video, even in darker waters. The video format itself is HD with a 1280 x 720 resolution, featuring 25FPS, on a H.264 MP4 format.
The device is fairly easy to operate; no caps, no cumbersome switches, and no SD card are needed. In terms of dimensions, it measures 4.5"(11.4 cm) in length, 1.3'' (3.3 cm) in width, and 1.5'' (3.9 cm) in height. It weighs 2.5oz. (70 gram). It's completely waterproof, operating well in both freshwater and saltwater. The smart lure is equipped with a rechargeable battery that delivers 70 minutes of continuous use. It's available in 8 different fish-attracting color models: Perch, Blue Strike, Golden Shiner, Red Head, Fire Tiger, Frogger, Gray Storm, and John Silver; making it ready for any fishing environment. You can use the Eco-Popper for fishing as a popper (top water lure) or just for scouting (no hooks attached).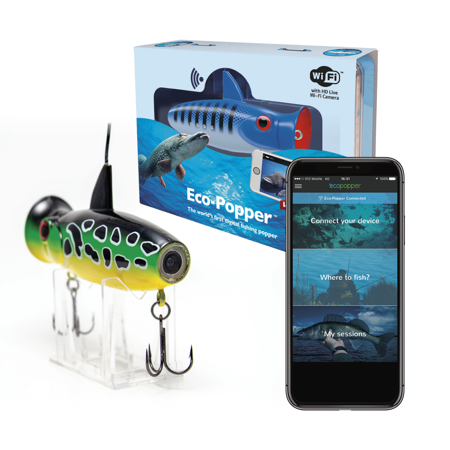 It comes with embedded water sensors, both built-in water temperature and salinity sensors, which are a key factor for pro fishing; and there's also an accelerometer. The device's sensors allow for a complete water quality analysis, measuring water turbidity (clarity), temperature, acidity (pH levels), oxygen levels and salinity (the level of saltiness). This information can be shared through the app so other anglers can see at a glance not only where fish are biting, but also provides real-time monitoring of the local water environment. It also features location-based geo-mapping.
With all the generated data, you can actually help the planet. By monitoring and measuring the condition and quality of the water environment, you'll generate valuable information within the App, that will enable water utilities to identify and further investigate, in real-time, water-related trends and risks and to conduct appropriate remedial measures. The final result is a crowd-sourced, up-to-date, real-time dataset of all water environments on earth, generated by the angling community around the world. And lastly, it's social media ready.
By streaming live video on the spot, the Eco-Popper helps you make the right decisions instantly and catch more fish, giving you not only more luck while, fishing but also making it more fun. Priced at $240, it's currently discounted at $190, saving you $50 bucks! You can find it here.
$20 off on their Blue Strike and Red Head colors PLUS free shipping, valid dates: June 28-July 11

SPECIAL GIVEAWAY THIS MONTH UNTIL JULY 4th. SIGN UP FOR OUR NEWSLETTER, AND ENTER TO WIN A BRAND NEW ECO-POPPER DIGITAL FISHING LURE. WINNER WILL BE SELECTED JULY 5TH, AND YOU WILL BE NOTIFIED BY EMAIL