Jaws, the movie that portrays a killer shark that threatens to kill the tourist business of Amity Island, has just gotten its own board game. "Jaws" is the seventh-highest-grossing film of all time, both in Canada and the US, with 128 million estimated revenue. The two-note soundtrack theme is super popular, and is known all over the world. With so much popularity revolving around the movie, this game should be a top seller in this space.
Whether it is with family or friends, your group will have a blast deciding who goes next on playing the shark in Ravensburger's new officially licensed Jaws game.
Just like Steven Spielberg's classic film, the new board game "Jaws" is divided in two major acts – Amity Island and The Orca – played on a double-sided board, in order to replicate the film's story. One player takes on the role of the killer shark off Amity Island, while the other 1-3 players take on the roles of Brody, Hooper and Quint to hunt down the shark. There are character and event cards that define player abilities and create game actions for both humans and the shark.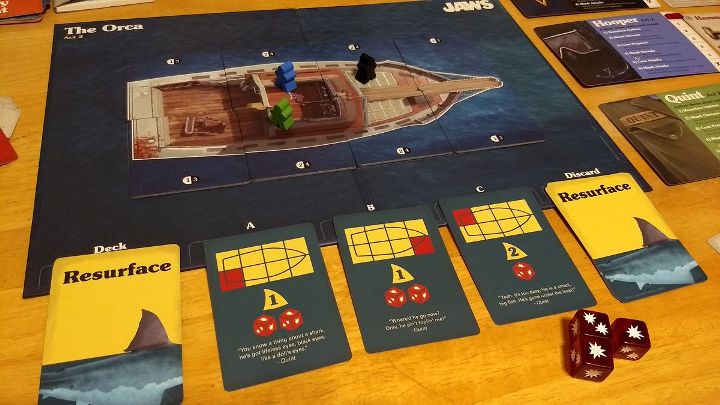 The first part (Amity Island) has the player controlling the shark terrorizing Amity Island, menacing swimmers and avoiding capture, while the three opponents that play as Quint, Brody, and Hooper try to cooperatively pinpoint the shark's location in the surrounding murky depths.
When the shark is finally located, the game switches to a second act; The Orca Phase. This second act is played on the reverse side of the game board, so it gets flipped over. Here, the three human players (Quint, Brody, and Hooper) are found aboard Quint's doomed Orca boat, which is slowly sinking. The players engage in a battle against the shark, while using additional action and strategy cards to defend the Orca from targeted shark attacks, working cooperatively to try and stop the shark from attacking and completely dismantling the boat…all this without knowing where the player controlling the shark is going to make their next strike.
If humans kill the shark, they win, but if the shark attack on the Orca succeeds, the great white shark wins.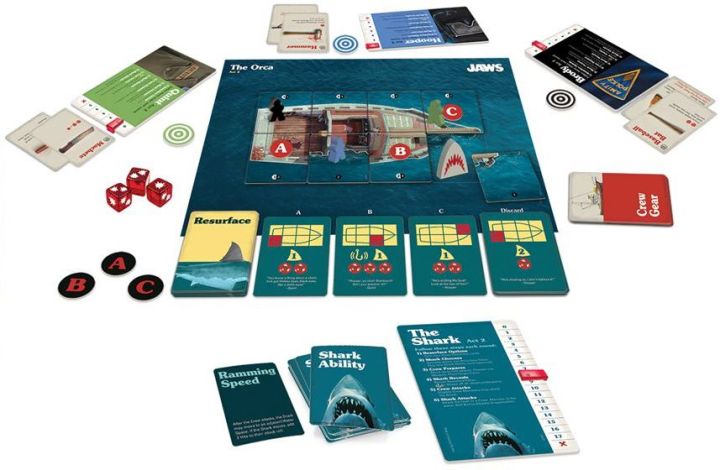 The game's suggested age goes from 10 to 12 years and up, making it a great game to play with family and friends, with a minimum of two and a maximum of four players. It has a playing time of around 30 to 60 minutes. But don't expect the ending to be exactly like the movie. There's no guarantee that Quint, Brody, and Hooper will be able to stop the shark before they're turned into shark-bait.
The new board game "Jaws", made by Ravensburger, is already available, and can be purchased at Target for $30. If you're looking to sink your teeth into the new strategy game, you can get it here.