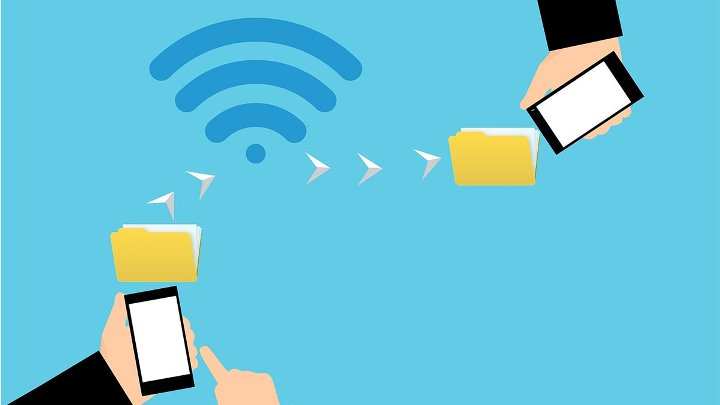 Earlier this year, during the month of March, Google revealed that its next mobile OS release (Android Q) would be dropping support for Android Beam, the closest thing the iOS competitor has to Apple's AirDrop.  Android Beam is a device-to-device data transfer tool that uses near-field communication (NFC) and Bluetooth to send photos, videos, contact information, links to webpages, navigation directions, YouTube URLs, and more from one device to another just by bumping them together. The rapid short-range exchange feature was first introduced in 2011 with Android version 4.0 (Ice Cream Sandwich), but it was improved after Google acquired the once-popular Bump application.
Regardless of Android Beam getting dropped from the upcoming OS (Android Q), Google is already working on its replacement; a new feature named Fast Share. It has been confirmed that Android Beam will not be returning in the next major version of Google's mobile operating system. However, regular Android Beam users have something to look forward to in Fast Share. 9to5Google was able to get Fast Share working on a Pixel 3 XL running the Android Q beta, allowing users to get a glimpse of how the feature will work after the operating system gets released.
With Fast Share, users will be able to share images, URLs, text, and other files between their Android smartphones without connecting them to the internet. The feature is accessible through the system share sheet, as well as through the Settings menu under the Google section.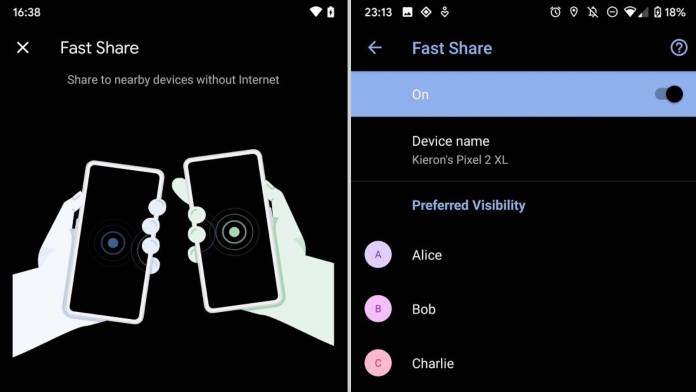 The new feature kept the simplicity of the old one (Android Beam). After enabling Bluetooth and Location, users are only required to enter a Device Name and turn on the feature. The two smartphones will then detect each other, and a full-screen user interface will appear to show what is being shared as well as a progress indicator. Lastly, the recipient will get a notification to accept or decline the transfer, along with a prompt showing the Device Name of the sender.
Fast Share uses Bluetooth to initiate the connection and a direct Wi-Fi connection to transfer the selected files. The new feature will be quicker for sharing large files. It also comes with the Preferred Visibility feature that works with frequent connections, meaning that users will always detect a person's smartphone if they are nearby. This acts like a "Safety Circle" and would benefit a lot of people, like college students that always work together in the same groups, as well as work groups inside many companies. If you're always looking to share any type of data between phones with your work colleagues, the new Fast Share feature is tailored for you.
While the feature's working method is similar to Apple's AirDrop, its reliance on Google Play Services may limit its reach. It's also unknown if Fast Share will require smartphones to use specific Android versions.