Are you a fan of the classic Universal monsters of the 1930's and 1940's? Do you enjoy playing board games? They're a great way to spend some quality time with both family and friends. German game and toy company, Ravensburger has its new board game coming this summer; Horrified: Universal Monsters Board Game brings all the classic universal monsters out to play.
Horrified: Universal Monsters is a cooperative game where players team up to defeat famous monsters in the form of "high-quality sculpted miniatures" of Frankenstein, Dracula, the Bride of Frankenstein, Wolf Man, the Mummy, the Invisible Man, and the Creature from the Black Lagoon. The game is meant to be played with two to five players, ages 10+. The board game displays interest points inside a city, like a Museum, a Crypt, and an Abbey, among others. Each monster has a smaller "board" as well, that will help manage the game's mechanics (interactions with the main board).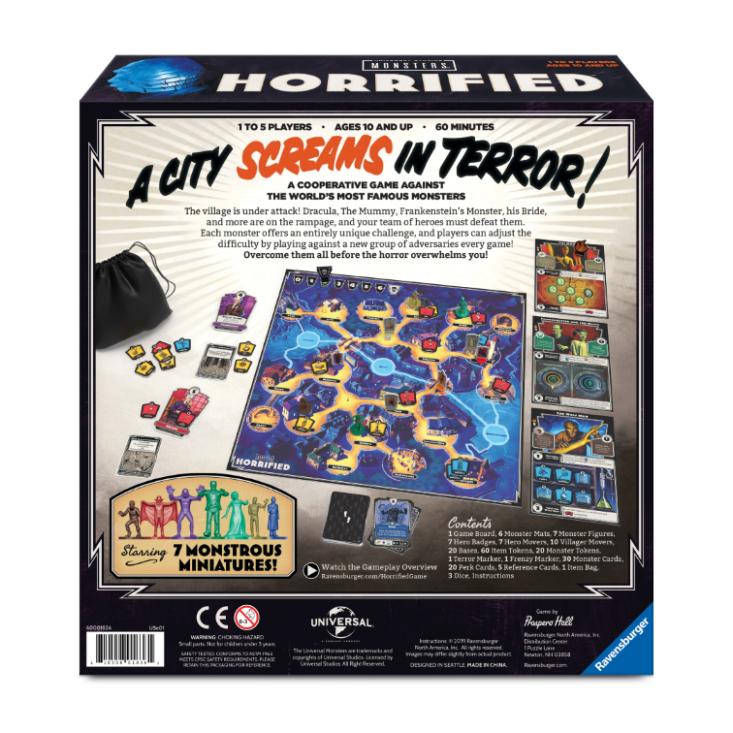 Essentially, a village is being terrorized by the monsters, and you and your friends need to work together to take them down and save the day. So basically, this is like a Monster Squad board game! Based on the movies, the monsters usually terrorize citizens for a specific reason – the Mummy tries to win back his long-lost love; the Creature doesn't enjoy having scientists poking around his watery lair; the Bride is terrified at the mere thought of being alive – and the game will up the threats while teaching players more about each horror-movie history.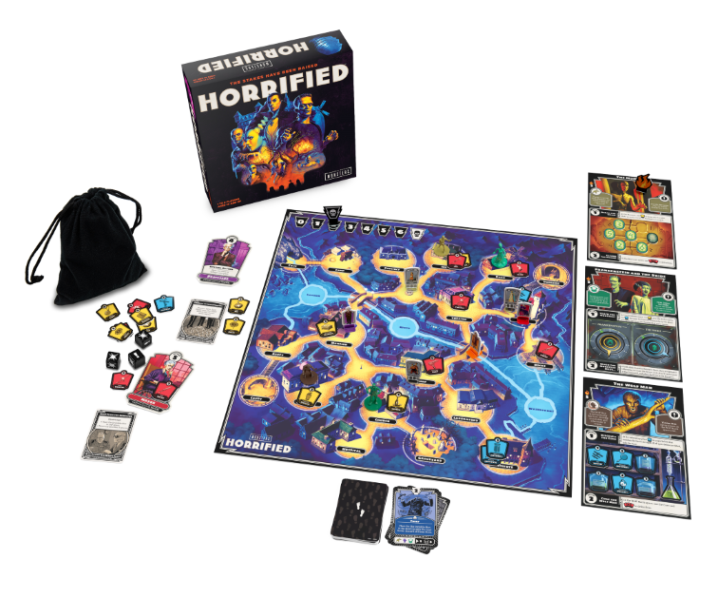 The company says, "The stakes have been raised. Imagine living in a place so wretched that it's not plagued by one, two, or even three monsters – but seven of the most horrifying fiends! In this game, you'll come face to face with them all as you work together to rid the town of the maniacal or misunderstood creatures…before it's too late."
Horrified is now available at Amazon, Target, Barnes & Noble and hobby stores for $34.99 (ages 10+).