The Theragun G3PRO is a percussive massage device, which provides professional grade percussion self-massaging therapy. The Theragun G3PRO is designed to use for treatment of different muscle groups in the body. A massage with the Theragun G3PRO activates the muscles in the body and relieves pain.
It was invented by Doctor of Chiropractic Jason Wersland, after suffering a bad injury in a motorcycle accident, leaving him with a herniated disc and back pain. Dr. Jason has his official statement about the Theragun on the official website, saying "Necessity became the mother of invention, and I made something to help deal with my pain. And that's how Theragun was born." Dr. Jason Wersland decided to try percussive massage therapy to help manage his pain, which he defines as a "form of deep soft tissue manipulation." The Los-Angeles chiropractor created the TheraGun to bring this therapy to athletes that are looking for ways to improve muscle recovery.
Regarding the Theragun G3PRO's build, the most notable improvement is the noise level.  Wersland claims the G3PRO is fifty percent quieter than the previous model. The proprietary gearbox has been completely re-designed, drastically reducing the noise produced by the powerful motor. It weighs 3 pounds and features two different speed functions that range from 29 to 40 percussions per second, which equates to 1750 turns per second (the newly added speed) or 2400 turns per second (the standard speed). This new and slower speed mode is ideal for sensitive places.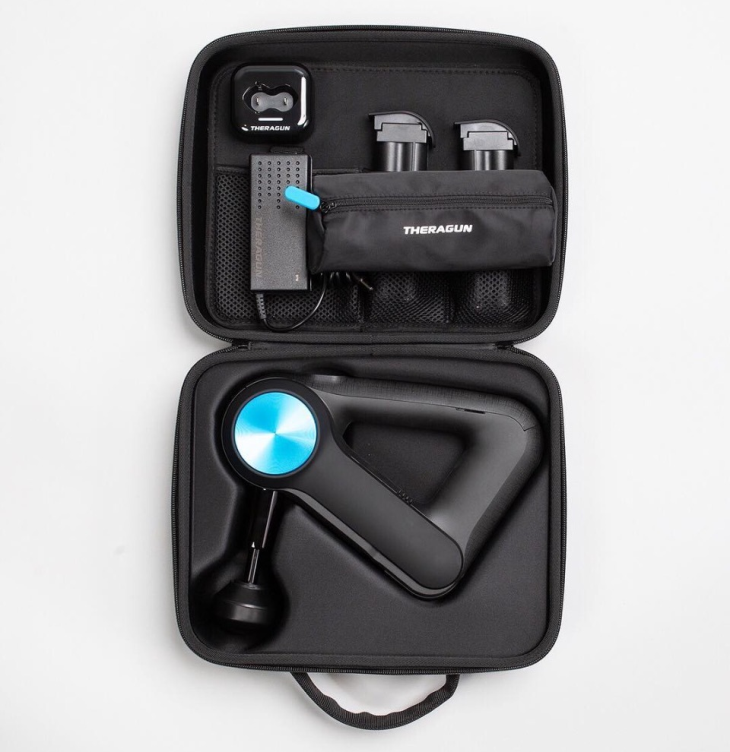 The Theragun G3Pro comes inside a convenient carrying case and features a longer battery life than the G2Pro, which had a combined battery life of 90 minutes. This new model comes with two swappable lithium-ion batteries, as well as a portable lithium-ion battery charger that allows you to swap out one dead battery for a fully charged one, offering users a total battery life of 150 minutes (75 minutes per battery). Only one battery can be charged at a time.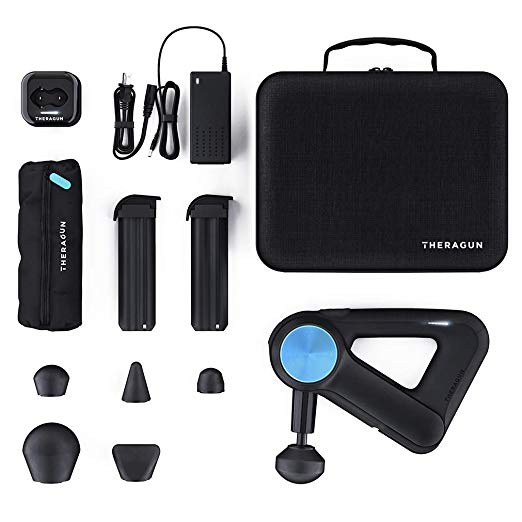 Inside the Theragun G3Pro's carrying case, there's also an attachment pouch that contains 6 different physician-designed attachment heads, which help users to treat the muscles as effectively as possible. These attachments include: a dampener (for tender areas or near bones); a large ball (for large muscle groups); a standard ball (for overall use); a wedge (for scraping, shoulder blades or IT bands); a thumb (for lower back and trigger point therapy); and a cone (for pinpoint muscle treatment). All of these attachments go on the end of the new adjustable arm.
The G3Pro was designed for professionals but made for everybody, and is available for around $600. If you're interested in getting yours, you can purchase it here.