A lot of pet owners deal with pet hair on their clothes, blankets and bedding. The newest product available to help remove pet hair from clothing is the FurZapper.
FurZapper is a pet hair remover that is simply placed in your washer and dryer. After adding them to your clothes pile inside one of the machines, both lint and fur will accumulate on the unit instead of remaining on the clothes.
The FurZapper is a soft rubbery disc with a pawprint cutout that is designed to remove any pet hair and lint in your laundry. First, it's tossed into a washing machine with a load of clothes, and then it follows the same pile of clothes to the dryer. Both fur and lint will stick to this, successfully removing the wanted mess from your clothing.
The FurZapper is a yellow or green disk with a pawprint cutout shape that slightly resembles the Scrub Daddy sponge, but contrarily to it, it's made from a very soft, tacky, flexible material that grabs both dog and cat hair, pulling it from your clothes. Not only is it easy to use, but it's also self-cleaning.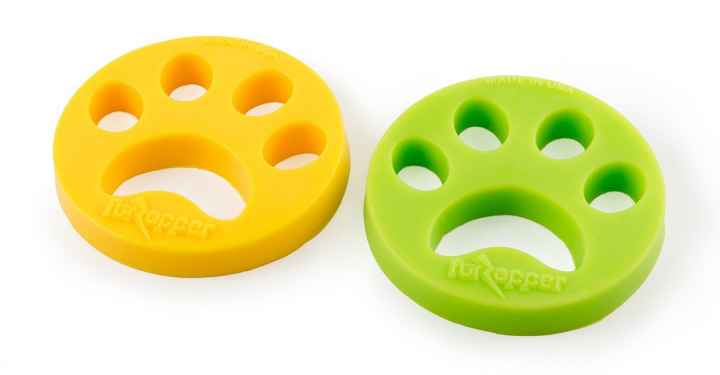 FurZapper won't damage your clothing and it doesn't contain any toxic chemicals. The FurZapper is hypo-allergenic and is re-usable, allowing you to get your clothes rid of any dog or cat hair, over and over again.
If you're interested in getting your 5-star rated FurZapper, it's currently sold as a single-unit pack, priced at $11, or a two-unit pack, priced with a special discount of $15. You can get either of this packs on FurZapper's main website. Find it here.