Anyone that has already traveled for work knows how convenient it is to travel light. You only care about taking the essentials. And since you're only traveling for work, you're probably not planning to stay for long. Thanks to some multi-purpose gadgets that offer "2-in-1" solutions, we are able to travel extra-light. One of these multi-purpose gadgets was recently announced by Swiftpoint, a technology development company with offices in New Zealand and the US, that's specialized in advanced Human Computer Interface (HCI) software and devices. The company designed the Swiftpoint GT, Swiftpoint Z and ProPoint mouse, bringing some of the most innovative, ergonomic and technologically advanced productivity mice to the world.
The company has recently announced its newest creation, called the TRACPOINT – the "TRAVEL MOUSE and PRESENTER", via their most recent Kickstarter Campaign. The TRACPOINT is small, lightweight, and reliable. Swiftpoint calls it "The ultimate TRAVEL MOUSE 3.0, and when accounting its built-in PRESENTER, we ultimately have 2 solutions in 1 gadget.
The TRACPOINT was designed for anyone that travels more than the regular officer worker, like people responsible for important meetings and presentations that are constantly on-the-go, or for any "Road Warrior & Frustrated Trackpad User". If you're sitting in an airport lounge with your laptop, a coffee shop, a plane, a train or Uber; this is where the TRACPOINT shines. You can use this mouse right on your laptop palm rest or almost any other surface.
Just like writing with your pen, the TRACPOINT mouse is the perfect productivity tool for all your travel needs. You're able to optimize your mobile workspace and be just as productive on the move as you are in the office. The company integrated wireless presenter technology into the mouse, providing you with a pointer to manage your slides, highlight sections with SpotPoint and numerous other features that enable you to both display your presentations and work with a single, reliable device. Its Presenter included features are Slide Control, Spotlight, Application Change, and Link Activation. The TRACPOINT features Bluetooth 4.0 connectivity.
The TRACPOINT's SpotPoint feature lets you highlight and pinpoint critical areas of your presentation to engage your audience. You can precisely navigate and identify key areas of your slides and desktop. Users can also configure the size and style of their SpotPoint via the Configurable Software. The mouse also features USB Rapid Charge battery, with its USB charging dongle, meaning that a simple 60 second charge offers up to 1 hour of use, and a full 1 hour charge provides up to 2 weeks of use.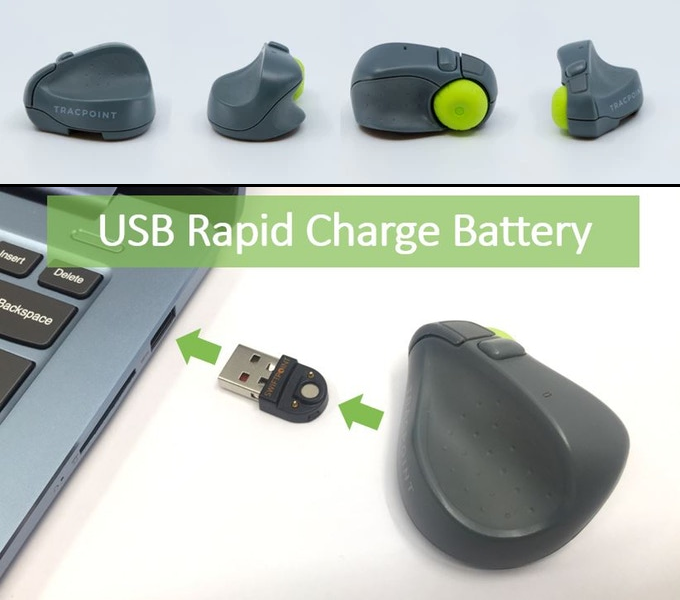 The TRACPOINT mouse features Button Actions, meaning you can combine tilt gestures with physical buttons. It also features Gesture Technology, offering users additional pre-set functions for keyboard entry. The TRACPOINT also comes with its very own Configurable Software, offering users a Control Panel that gives them full control of the mouse. This means you're able to assign mouse button functions to keyboard actions, enabling you to be more efficient and productive.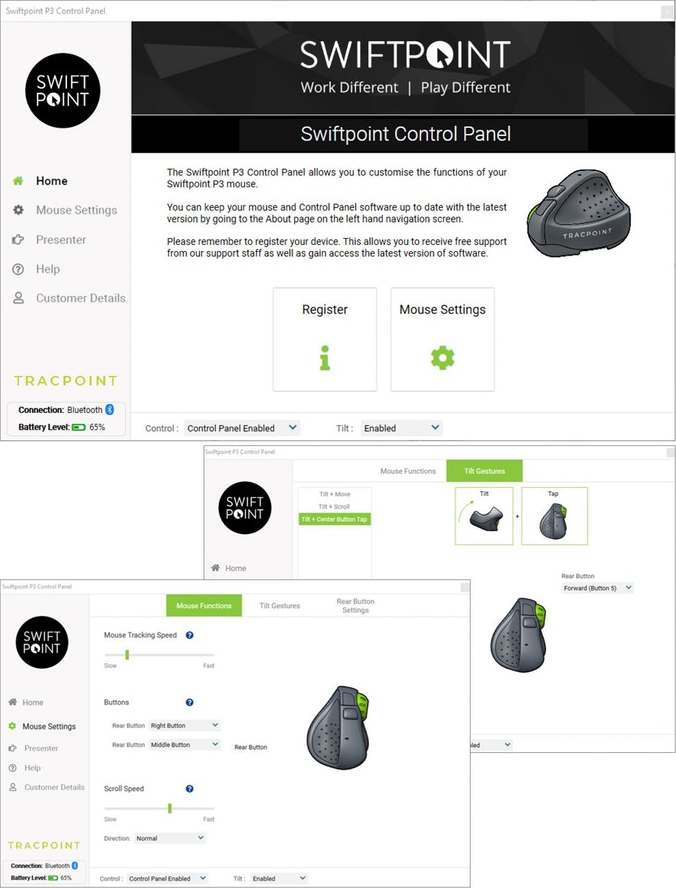 If you would like to support Swifpoint's TRACPOINT Kickstarter Campaign and get yourself a TRACPOINT Mouse/Presenter, you can do it through their Kickstarter campaign page, by clicking here.